In Memory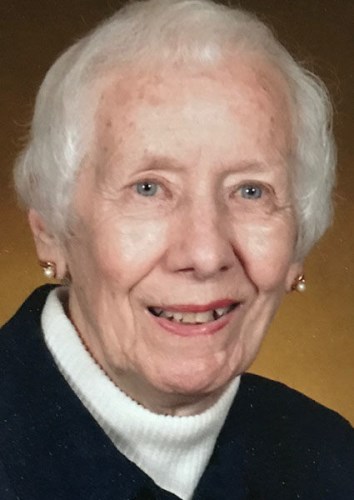 PEGGY (CLAUER) MCALLISTER
Peggy McAllister, 92, of St. Joseph passed away Monday, May 10, 2021.
A celebration of life will be at 2 p.m. Saturday, May 22, at St. Paul's Episcopal Church in St. Joseph. emorials may be made to Sarett Nature Center or St. Paul's Episcopal Church of St. Joseph. Those wishing to share a memory of Peggy may do so online at www.starks-menchinger.com.
Peggy was born on Oct. 11, 1928, to Kenneth and Edna (Rose) Clauer in South Bend, Ind.
She graduated from South Bend Central High School in 1946. Peggy attended Purdue University where she met Fred "Mac" McAllister. Peggy and Mac were married on May 1, 1949 and lived in Hobart, Ind., until they moved to St. Joseph in the late 1950s. They put down permanent roots and raised their four children in St. Joe.
Peggy loved a wide variety of outdoor activities including gardening, camping, canoeing, cross country skiing and sailing on Lake Michigan. She was able to share her enthusiasm with others through High Cliff Terrace Garden Club and the Sarett Nature Center. Peggy knew the names and characteristics of Michigan native flowers and trees and often amazed her grandchildren with this information. She enjoyed gardening into her 90th year.
Peggy loved small town life and was known by many in the community as an active volunteer. She was a devoted member of St. Paul's Episcopal Church where she participated on a variety of committees. She was a driving force in the church, Hadley pottery sale and the annual rummage sale.
While her daughter was in Girl Scouts, Peggy became a troop leader. Although Jean left scouting in junior high school, Peggy became a lifetime member of the scouts and served in various roles for the area Girl Scout council. She hiked the Appalachian Trail with a group of Girl Scouts and was still active when her granddaughters became scouts, eagerly joining activities when needed.
Peggy enjoyed the St Joseph/Lincoln Center and enthusiastically participated in the activities there. She was part of a group of seniors that danced for fun and even performed their routines on occasion.
Peggy is survived by her daughter, Jean Tipton (Brent) of Huntsville, Ala.; sons: Jack McAllister of Grand Rapids and Jim McAllister (Connie) of South Haven; daughter-in-law, Jenna (Pat) of St. Joseph; grandchildren: Katie McAllister, Christine McAllister Mulcahy and Colin Mitchell; great-granddaughter, Heidi Mulcahy; and her sister, Carol Metallo.
Peggy was preceded in death by her parents; husband; and her first-born son, Pat.
Published by The Herald-Palladium on May 14, 2021.
02/09/2023 EJS
Click here to see Peggy's last Profile entry.