In Memory
David Hay - Class Of 1940 VIEW PROFILE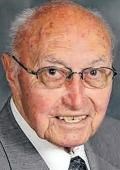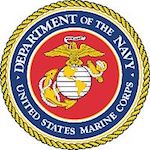 DAVID C. HAY
Oct. 10, 1922 - Dec. 29, 2013
GRANGER - David C. Hay, Jr., 91, residing at Emeritus at Arborwood, Granger, passed away early Sunday morning after a long, successful and enjoyable life. Dave was born in South Bend to David Cole and Lucile (Norris) Hay, and was a lifetime area resident. He grew up at 1719 North College St. in a home that his father built, and spent many summer days at his grandparents' cottage on Long Lake, Three Rivers, MI.
Dave attended Marquette Elementary, Muessel Jr. High and South Bend Central High School, graduating in 1940.
He attended Indiana University, Bloomington, until war was declared following the Pearl Harbor bombing, after which he enlisted in the U.S. Marine Corps. He saw action in the Pacific Theater, winning commendation for his service. After the war, Dave studied at the former Tri-State College, Angola, where he was a member of Alpha Sigma Phi fraternity. He graduated in 1948 with a degree in Mechanical Engineering. He began his career in the concrete industry in 1949 at Kuert Concrete in South Bend. One of his earliest assignments was making compression test cylinders for the Frank Lloyd Wright-designed Mossburg home on Ridgedale Rd.
Dave married Carolyn Fassnacht on March 31, 1951, and started their family at 2153 Parkview Pl. In 1957, they built a home at 1830 Kessler Blvd., where their four boys grew up. In 1968, cottage #00 Birch Lake, Vandalia, became a family summer get-away.
At Kuert Concrete, Dave succeeded his father as Chairman, along the way building the current plant, one of the country's most innovative, as featured on the cover of Modern Concrete magazine in September 1971. During Dave's tenure, Kuert also purchased the former Valley Concrete which included plants in both Mishawaka and Niles. The Niles property was later donated to the city for Riverfront Park. Dave retired in Granger, where he and Carolyn spent time entertaining, traveling, and with family.
In 2001, they celebrated their 50th wedding anniversary. Dave is survived by sons, David Cole III of Granger, John C. (Ann) of Fort Wayne, Thomas C. (Laura) of Hartsdale, New York, and Michael C. (Mickey) of South Bend. Also surviving are grandchildren, Chelsea Hay of South Bend, Whitney Hay of Mishawaka, and Jeremiah, Cassandra and David C. Hay of Hartsdale.
He was preceded in death by his parents, brother Samuel, adopted sister (cousin) Sharlot Norris, and wife Carolyn. Dave was an avid golfer and bowler, member of South Bend Country Club, Knollwood, and Four Lakes Country Club, who twice scored a hole-in-one.
Dave held memberships of over 60 years in the Elks and over 50 years in the Ancient Accepted Scottish Rite, where he was a 32nd degree mason. He was also a member of First United Methodist Church, the Izaak Walton League and the former and University Club of Notre Dame and Summit Club. He was a longtime member of the Indiana Ready Mixed Concrete Association, where he was inducted into their Hall of Fame in 1982, was a past president of the Misha-Bend Kiwanis, and served on the advisory board of the First Bank and Trust Company, Airport Branch.
Throughout his life, Dave had fun - with a song, a gag or a drink - preferably scotch. His favorite gag was standing on his head - at a party, restaurant or in a hotel elevator. He had a great many friends and was rarely alone.
Visitation will be held from 3:00 to 7:00 p.m. TODAY in the Welsheimer Funeral Home, 521 William St., South Bend. A funeral service will be held Friday, Jan 3rd at 1:00 p.m. in the funeral home, with Rev. Mary Hubbard officiating. Committal services with military honors and entombment will follow in the Riverview Cemetery Mausoleum. Contributions in Dave's memory may be made to the Izaak Walton League (IZAAKSB.com), 20400 Darden Rd., South Bend, in 46637, or the First United Methodist Church (firstumcsb.org), 333 N. Main St., South Bend, IN 46601. Family and friends may leave e-mail condolences at www.welsheimer.com. The family would like to thank Cherilyn Finch, along with the staff at Emeritus at Arborwood and the Center for Hospice Care for their loving care in Dave's final years.
Published by South Bend Tribune from Jan. 1 to Jan. 2, 2014.
01/27/2023 EJS
Click here to see David's last Profile entry.