In Memory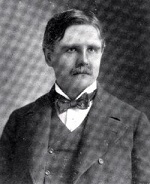 Abraham Lincoln Brick
May 27, 1860 - Apr. 7, 1908
US Congressman. He was elected as a Republican to represent Indiana's 13th District in the United States House of Representatives, serving five terms from 1899 until his death in office.
He was born on his father's farm near South Bend, Indiana, and attended South Bend High School.
After study at Cornell and Yale Colleges, he graduated from the law department of the University of Michigan at Ann Arbor in 1883; that same year he was admitted to the bar and returned to South Bend to set up a legal practice.
Brick served as prosecuting attorney for the counties of St. Joseph and La Porte in 1886, and launched his political career as a delegate to the 1896 Republican National Convention.
He died at 47 in Indianapolis.
Bio by: Bobb Edwards
02/12/2022 DEC
Click here to see Abraham Lincoln's last Profile entry.