In Memory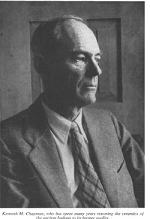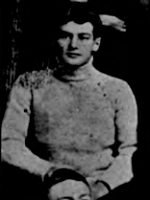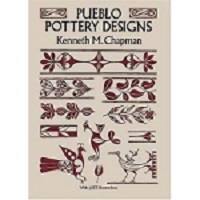 Kenneth Milton Chapman
1875 - 1968
Kenneth M. Chapman, C.P., Curator Laboratory of Anthropology, Santa Fe.

KENNETH CHAPMAN 13 Jul 1875 Feb 1968 87501 (Santa Fe, Santa Fe, NM) An original member of the Revived E Clampus Vitus in the 1930's

CHAPMAN, Kenneth M. (1875-1968) Pueblo Indian Pottery... with introduction and notes by Kenneth M. Chapman Curator of Indian Arts Fund and the Laboratory of Anthropology Santa Fé (New Mexico) Nice, France: C. Szwedzicki, 1933. Volume I only (of 2), folio. Titles and first pages of introductions printed in red and black, half-titles, parallel text in English and French. 50 photo-lithographic plates, coloured by hand, each with original tissue guards intact. Text stitched and plates unbound as issued, contained within original publisher's cloth portfolio, upper cover with mounted plate, ties (slight wear to extremities). Limited edition of 750 copies signed by the publisher. A rare part set of Chapman's survey of Pueblo Indian pottery, an art which was an integral part of a 'native culture, unique among the patterns of the American Indian, [which] had its inception, and had reached its maturity, in the heart of the great southwestern area of the United States' (Introduction) This work is much scarcer than the same publisher's portfolio of Sioux Indian paintings which was issued several years later. The fifty beautiful plates depict specimens of Pueblo pottery selected from the collection of over nineteen hundred pots in the Indian Arts Fund in Santa Fé, New Mexico.

The text gives a general introduction to the ceramic art of the Pueblo Indians of the southwestern United States, then concentrates on an overview of the pottery produced in the pueblos of Taos and Picuris, San Juan, Santa Clara, San Ildefonso, Tesuque, Cochiti, Santa Domingo and Santa Ana. This is followed by descriptions of the specific examples of the pottery shown in the plates. Szwedzicki also produced portfolios of Kiowa Indian art and Pueblo art, all published in the south of France in the 1930/s,

also published Pottery of Santo Domingo Pueblo by Kenneth m Chapman (Paperback - 1936) A report on the museum and research organizations of the City of Santa Fe, New Mexico, with a plan for their cooperative development 1926 Decorative art of the Indians of the Southwest: A list of publications containing illustrations from basketry, pottery, textiles, and other crafts of especial ... (Bulletin / Laboratory of Anthropology) by Kenneth M Chapman (Unknown Binding - 1931) Pueblo Indian pottery of the post-Spanish period (General series, Bulletin / Laboratory of Anthropology) by Kenneth M Chapman (Unknown Binding - 1938 Kenneth M. Chapman (1875-1968) arrived in New Mexico in 1899 and immediately immersed himself in cultural projects: mapping archaeological ruins, judging Pueblo pottery, teaching art, and studying ancient and modern Indian design. He was one of many immigrants, but one of few to be so actively involved in every aspect of Santa Fe's transformation into a cultural center.

Author Munson provides an edited and annotated edition of Chapman's memoirs which offer an insider's view of the personalities and events that transformed the city.
03/10/2022 DEC

Click here to see Kenneth Milton's last Profile entry.