In Memory
Burr F. Augustine - Class Of 1888 VIEW PROFILE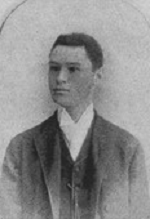 Burr F. Augustine
Sep. 5, 1869 - Jun. 27, 1945
From the June 28, 1945 SOUTH BEND TRIBUNE:

B. F. Augustine dead at age 75

Formerly President of Safety Board; Lumber Dealer.

Burr F. Augustine, aged 75, of 1215 Riverside Drive, formerly president of the board of safety and a wholesale lumber dealer in South Bend for 39 years, died at 9 pm Wed. in Epworth hospital, after an illness of 10 days. He had undergone an operation and pneumonia developed.

Mr. Augustine was president of the South Bend board of safety in the administration of Mayor Fred W. Keller, 1914-1918. He was active in the great Billy Sunday campaign in South Bend in 1913 as organizer of a chorus of 1123 voices singing in the Sunday tabernacle built on what is now Edgewater Place.

Reared as a Republican, Mr. Augustine became a Progressive but returned to the Republican party. He sought the office of couty auditor but was not successful.

Born near New Carlisle, this county, Sept. 5, 1869, he married Miss Ethelyn C. Baldwin, who survives, in Michigan City, Ind. June 26, 1895. Also surviving are two daughters, Mrs. O A Laven and Mrs. Clarence E Perkins, and a son, Richard W. Augustine, all of South Bend, and 5 grandchildren, Elizabeth and Clarence Edwin Perkins, Janet and Robert Laven, and Richard W. Augustine.

Mr. Augustine moved to Kansas City, MO. where for 7 yrs he was associated with the Deardoff Lumber Company. From there, he moved to St. Louis, Mo where he was with the Lews Verner Sawmill company for 3 yrs. Thirty-nine years ago, he returned to South Bend and set up a wholesale lumber business of his own, in which he was still engaged at the time of his death.

He was an active member of the Westminster Presbyterian Church; a member of South Bend lodge No. 294, F & A M; south Bend chapter No. 29, R A M; South Bend commandery No. 13 Knights Templar; Scottish Rite bodies of South Bend and Orak Shrine of Hammond, Ind.

Funeral services have been set tentatively for Sat. afternoon in the Westminster Presbyterian church. Friends may call until Sat. Noon in the Welsheimer Funeral Home.
02/26/2022 DEC
Click here to see Burr F.'s last Profile entry.