In Memory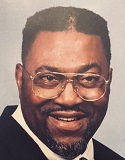 Mr. Jesse C. Barnes, affectionally called 'J C,' was born November 28, 1938, in Brownsville, Tennessee to the union of Joseph and Rosie Barnes.
As a young boy, he spent time with his grandmother, Martha Nelson Parker Barnes; his uncle, Willie, and aunt, Annie Lou Taylor in Louisville Kentucky. In this loving household, he learned the benefit of being treated as a family member. He often shared that whenever Uncle Willie bought things for his children, he also purchased the same items for him. He remembered, "Uncle Willie never made a difference between his children and me. When they received new shoes, I received new shoes".
He was the oldest nephew in the South Bend, Indiana Barnes, and Parker clan. He was one of the favored nephews and often spent weekends with Uncle Amos Barnes and his family. During this time, he acquired the nickname of 'cakes' and everyone knew his favorite cake was yellow layer cake with chocolate frosting.
J C attended Central High School. He was a hard-working teen and loved clean, powerful cars. He made sure female relatives could drive a stick shift even when automatic transmissions were easier to drive.
In 1958 he married Mary Clara Boyd and to this union, three children were born: Jesse Derome, Angela Renee, and Kwasi Andre. He loved having young children in his home. As his children grew up, he opened his home to grandchildren: Turrell, Tierra, JaRyah, and Tiondre. He remembered the love he experienced as a young child and showered his grandchildren with the same love. The family often stated, "He will never be in a house without children." That statement describes who he was and the love and financial support he provided.
He was preceded in death by his wife, Mary Clara; his father, Joseph Barnes; his mother Rosie; stepmother, Gracie Barnes; brother, Michael; son, Jesse D. Barnes; and countless other family members and friends.
Jesse leaves to mourn his passing, a daughter, Angela Robertson; and a son, Kwasi Barnes; a brother, Joseph Barnes Jr., adopted grandchildren: JaRyah Barnes, and Tiondre McDaniel; a sister/cousin, Dorothy Ann Bowles; grandchildren: Janicca (Justin) Doggett, Jessica (Quinton) Wainwright, Turrell Andre McDaniel, Tereman Adrian Robertson, Donald Edward Robertson Jr.; six great-grandchildren: Leliana Robertson, Tereman Adrian Robertson Jr., Zoe D. House, Zayden J. House, Zayahn J. House, and Galaxie Savior Robertson; and faithful caregivers Tierra and Steven House.
Jesse started his working career at Hi-Speed Car Wash. He was a hard worker and a wise steward. Later, he was blessed to work at Clark Equipment in Michigan and remained there until the plant closed. After Clark Equipment closed, he was employed at Memorial Hospital in South Bend. He was proud of the clean, waxed floors he provided. He was happy buffing and making sure the floors had the correct shine. His goal was to provide financial resources for his family. He opened Barnes Laundry Mat and kept the floors and the establishment as clean as he kept areas in Memorial Hospital. He was kind to customers, offered discounts, and provided a safe and clean environment. He shared things he learned about commercial machines and everyone who would listen, learned that the recommended amount of laundry product was simply that, a 'recommended amount.' Because of his knowledge, we know we can use half the recommended amount shown on the packaging. He was focused on saving money and resources.
J C was faithful to Bethlehem Missionary Baptist Church. He and his wife, Mary served under Pastor Willis, Pastor Petty, and Pastor Witherspoon. He was a faithful usher until his health prevented him from serving.
We will miss his sense of humor, automobile driving instructions, family history, and other bits of information he felt we needed to know. We will miss seeing him in his white socks and starched, creased pants. We will miss him sitting in his easy chair with his favorite beverage in the green bottle. We will miss his mopping, cleaning, and cooking.
We know his physical suffering is over. He left a great legacy and finished his course. "Fare thee well, our Dear J C Barnes."
11/14/2021 JFC
Click here to see Jesse C's last Profile entry.