In Memory
Walter Deffenbaugh - Class Of 1893 VIEW PROFILE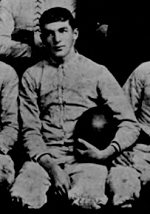 Walter Deffenbaugh
Nov. 7, 1875 - May 4, 1940
Born 7th November 1875. South Bend. St. Joseph Co, Indiana.
To John M. And Fairmena O. Miller Deffenbaugh Who Married 14th July 1868 South Bend, St Joseph Co, Indiana.
Walter Is Listed As Their Only Child.
He Married Mary Elizabeth Sloat 24th September 1907.
Pierce Co, Washington.
One Child Daughter Jeanne Miller Deffenbaugh
In 1940 Walter With Wife Mary Resided In, San Francisco. San Francisco, California.
Male
Age Listed As 64 Marital Status Married
White
Deffenbaugh was a former magazine editor of the New York Sun and cable editor of the New York Herald. He later worked with the San Francisco Examiner and also with the Chicago Tribune and Seattle Times.
03/05/2022 DEC
Click here to see Walter's last Profile entry.