In Memory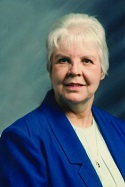 Neva Jane Leach
July 30, 1929 - April 26, 2021
Born on the kitchen table in South Bend, Wash., to parents Fred Badger and Isabel (Coulter) Badger, Neva spent most of her growing years in the home her parents built onto the family Texaco station. She loved telling stories of growing up on the river: trips with sister "Bunny" in her dad's boat (still on display in South Bend) to pick huge Dungeness crabs off the dock pilings at low tide. Mom graduated from South Bend High School in 1947.
A summer graduation gift from Neva's grandmother of a trip to California became a legend in our family. Chaperoned by "Gram," Neva was allowed to bring her boyfriend to "help with driving." The Oregon coast, the Sea Lion Caves, the California coast, and the great redwood forests were thrilling sites for the two youngsters from little South Bend. However, in San Luis Obispo, Calif., fate struck the travelers. Grandma was hit by a car while walking across Old 99 and had to be hospitalized for two weeks! Neva and her boyfriend were suddenly on their own in a motel with reputations at stake. The solution? Neva Jane Badger married Dhan Roger Leach in San Luis Obispo that summer in 1947.
Dhan and Neva were married for 50 years and raised three boys, David Eugene, Wayne Stephen, and Christopher Jon. All three attended R.A. Long High School.
Neva loved road trips, seafood, the BBC, chocolate, cats, Italian restaurants, Christmas lights, dessert, her precious family, dessert (did we mention that already?) and yes, bookkeeping. She had a talent for numbers and record keeping that would blossom into a career that spanned well over 50 years. Many of our communities' rental property owners relied on Neva's Bookkeeping Service to keep their investments prosperous and legally compliant. Her clients called her "my rock", "the wizard", "brilliant", and "the best". She finally turned off her adding machine at 85 years young.
Neva's father was born Frederick Lomas in Eccles, near Manchester in England. His family attempted to immigrate to British Columbia, but both parents died of disease before a new home could be established, making their two boys orphans. Fred was just five years old. Fortunately, they were soon adopted by Margaret and Aaron Badger in South Bend. They would spend the rest of their lives there.
Mom always dreamed of connecting with her British roots, and at 89 years old, her dream came true. Son Christopher planned the trip of her lifetime to include a full tour of Washington D.C., Arlington National Cemetery, and then "across the pond" to England. She got to stay in a classic English bed and breakfast in Eccles, eat and drink with the locals, and with the miraculous help of a local cabbie, we even found the house her father was born in! A Liverpool and Beatles tour followed and then we were off to London. Staying on the 40th floor of the closest hotel to Big Ben with panoramic views of the city, Neva got to see all the major sites of London. A side trip to Stonehenge, Shakespeare's elementary school, and the Roman ruins in Bath filled out the trip. At 89 and in a wheelchair, she never got tired and always said "what's next?!" for 15 straight days.
Neva is survived by her son, Christopher Leach and his wife Mary, daughter-in-law Patricia Leach, nieces Kate Rae and Sally Iams, nephews Jeff and Jerry Dean, and her grandsons Tim Leach (Katelyn), David "Olly" Leach (Darcie), Ben Leach, and Sean Leach. Her only granddaughter, Clara Jane Leach, survives her and attends Reed College in Portland, Ore. Neva was the proud great grandma to eight great grandchildren and four great-great, grandchildren. She was preceded in death by her parents Fred and Isabel Badger, her husband Dhan Leach, her sister Gloria "Bunny" Iams, and her two older sons, Wayne Leach and David Leach.
A Celebration of Life BBQ and potluck will take place the weekend of her birthday at the end of July 2021, at the home of Christopher and Mary Leach.
05/14/2021 JFC
Click here to see Neva Jane's last Profile entry.