In Memory
Gertrude Virginia Dabrowiak (Kamasinski) - Class Of 1937 VIEW PROFILE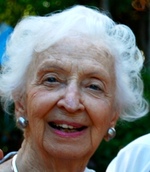 Gertrude Virginia Komasinski, 96, formerly of South Bend, passed away Tuesday, March 17, 2015 in the care of Catholic Hospice of South Florida. She was born September 26, 1918 in Chicago, the middle child & only daughter of Ignatius Edward & Stella (Koniezka) Dabrowiak.
She attended South Bend Muessel Elementary and graduated from Central High School, Class of 1937. She married Ralph Joseph Komasinski in 1941 and they enjoyed a 56 years of marriage. Their children; Susan, Ralph Michael, and Peter Joseph grew up in South Bend. In 1966, Gert and Ralph moved to Muncie where they resided for 30 years.
She loved the game of golf and her proudest moment while playing was her Hole-in-One at the Muncie Elks Country Club.
Upon the death of her husband in 1997, Gert returned to South Bend where she reconnected with many of her close friends. She loved to play cards and never liked to lose. There wasn't a day that went by when she didn't put on her pearls and look for something wonderful to enjoy including her beautiful flowers, her family and her friends. She served as a volunteer at St. Joseph Medical Center and was awarded the key to the city of South Bend and the Sagamore of the Wabash by former Mayor and Governor Joe Kernan.
In 2011, Gert moved to Miami, Florida to be near her daughter Susan. She made many new friends at the Five Star Residences of Hollywood, Florida and welcomed visits from her four grandchildren and ten great grandchildren.
A memorial service will be held at a later date. Interment in Chapel Hill Memorial Gardens. The family's preferred memorial is Hospice Foundation, 501 Comfort Place, Mishawaka, IN 46545. To sign the online guestbook or to offer condolences to the family, please visit www.chapelhillmemorial.com.
06/24/2022 EJS
Click here to see Gertrude Virginia's last Profile entry.