In Memory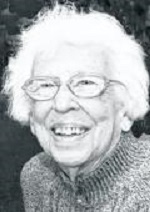 Ruth Frances Cohn
Sep. 28, 1917 - Feb. 16, 2014

SOUTH BEND - Ruth Frances Adler Cohn O'Neill was born on September 28, 1917, to Max and Lillian Adler. She died in her sleep after a short illness on February 16, 2014, at age 96.
Ruth graduated from South Bend Central High School and the University of Wisconsin. She married Kay Cohn and is survived by their children, Gene Cohn (Jill) of San Francisco and Carol Baye (Val Newman) of Salt Lake City; her step-daughter, Maureen Hoyer (Tom) of Rehoboth Beach, DE; grandchildren, Ben Cohn, Jennifer Abssy (Mike), Alexis Carroll-Gilgen (Chad); her special great-granddaughter, Gracie; nephews, Marvin, Bob, Bill, Dave, and Brad Frank, Allan and Scott Cohn, their families, and countless friends. She was preceded in death by her parents, Kay & husband, Arthur O'Neill, and her beloved sister, Mildred Adler Frank.
Everyone enjoyed hearing Ruth play the piano and she loved to play. She also enjoyed reading and keeping up with current affairs. She was alert until the end. A memorial service was held at her retirement home in San Mateo, CA, and she will return to South Bend in the spring. Woody Allen said, "I'm not afraid of death; I just don't want to be there when it happens." Ruth O'Neill said, "Tell Woody it's not so bad."
.Published in South Bend Tribune on Mar. 2, 2014.
05/13/2022 DEC
Click here to see Ruth Frances' last Profile entry.