In Memory
Bertrand A Handwork - Class Of 1944 VIEW PROFILE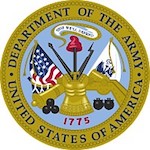 BERTRAND A. HANDWORK
April 9, 1927 to March 18, 2009
SOUTH BEND - Bertrand A. Handwork, Jr. was born in South Bend, Indiana on April 9, 1927 to Ianthe Cole Handwork of South Bend and Bertrand A. Handwork, Sr. of Huntington, Indiana. As grandson of Dr. Elmer Ward Cole and Alice West Cole he grew up in the parsonage of the First Christian Church on Main Street.
He attended Madison Elementary, South Bend Central High School and De Pauw University where he was an ATW.
He was a noncommissioned officer in the Army Air Corps during his early military service. After receiving a master's degree from the University of Stockholm he reentered the military service as a commissioned officer in the Army Reserve. During these years he taught social studies at Madison School where he was also coach. After graduation from the Command and Staff College in Manhattan, Kansas, he served the remainder of his service time on active duty. He received many medals, letters of commendation, and a master's degree from the Army War College. His final promotion was to Colonel while serving as an instructor at that post in Pennsylvania.
He is survived by his wife, Mary Ellen Handwork; his brothers, Larry Handwork of Huntington and Ronald Handwork of Sarasota, Florida; and his former wife, Nancy Bittle Handwork of Fairfax, Virginia. His children include: Ruth Nieboer (Kourtney), Susan Bacs (Aron) of Orlando, Florida, John Handwork of Clackamas, Oregon, and Julia Thomas (Mark) of Fairfax, Virginia. His grandchildren are Geoffrey, Elizabeth, and Emily Nieboer; Aron and Gordon Bacs; John, Ryan, Melissa and Matthew Thomas. He also has two great-grandchildren: Sydney Baugh and Anna Finkelstein.
Funeral services will be at 1 pm on Monday, March 23, 2009, in the McGann Hay, Forest G. Hay Funeral Home, 435 S. Ironwood Dr. at Jefferson, with Rev. Susan Beamer, Interim Pastor of First Christian Church, officiating. Friends may call on Monday from 11 am to 1 pm in the funeral home. Military Honors and burial will follow at Riverview Cemetery.
Memorial donations may be made in Col. Handwork's memory to First Christian Church, 1001 E. Jefferson Blvd, South Bend, IN 46617. To send condolences to the family or for directions log on to: www.McGannHay.com.
Published by South Bend Tribune on Mar. 20, 2009.
01/24/2023 EJS
Click here to see Bertrand A's last Profile entry.