In Memory
Catherine Virginia Christian (Rider) - Class Of 1943
VIEW PROFILE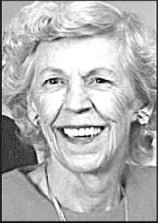 Catherine V. (Christian) Rider
Jan, 5, 1924 — Nov. 9, 2006
Catherine Virginia Rider, 82, died Thursday in Healthwin Specialized Care Facility in South Bend. Catherine was born January 5, 1924, in Benton Harbor, Michigan, to Ruth and W. Holmes Christian, who pre-ceded her in death.
She is survived by her daughter, Jacqueline R. (John) Sullivan of Edina, MN; five sons, Michael C. (Nan Frederick) Ponder of Portland, Ore., Gerald H. (Vicki) of South Bend, John C. of Missoula, MT, David M. (Jackie) of Chappaqua, N.Y., and James Z. (Dianne) of Granger; a sister, Betty Jo Adamson of South Bend; and a brother, Wilmer H. Christian of South Bend. Katy is also survived by 15 grandchildren and eight great-grandchildren, including Hannah Rider of South Bard, Rachael Peli of Granger and Christopher Peli of Washington, D.C.
In 1944 she met Carl Ponder during an Episcopal Youth Group (EYC) activity at the Episcopal Cathedral of St. James in South Bend. The two married later that year and graced the world with Michael Carl Ponder in April 1945. Carl served in he Army Air Corps in Panama and was later killed in a vehicle accident while training at a base in Missouri.
While living with her mother and stepfather, William Ranger, on Navarre Street in South Bend, Katy met Jack Rider during an EYC function at St. James. They were married on June 27, 1946, in the chapel at St. James. Jack preceded her In death on December 28, 1995. With the Great Depression and the untimely death of her father, the family made the difficult decision to place Katy, her sister, Betty Jo, and brother, Wilmer, In the VFW National Home in Eaton Rapids, Michigan. This was possible because of her father's service in the Army as a first lieutenant during WWI In France. As the family's financial situation improved, Katy moved back to South Bend in time for her senior year. She graduated from South Bend Central in 1943. While attending high school, she worked as a waitress/car hop at the Mar Main Pharmacy, a popular hangout for Central students.
While she had fond memories of life at the VFW Home, she was determined to build a stable, traditional home. Jack was an only child who bounced around the country attending several schools because of his father's work. In 1946 Jack and Katy purchased a modest home on South Bend's north-west side and raised six children. After Jack died, Katy was determined to stay in her home surrounded by a lifetime of memories. Their home was well-known as a gathering place for all of their children's friends, hosting many parties over the years.
Friends still recall those days with warm affection. While Jack could be found in a basement packed with dancing teenagers, it was not unusual to see Katy in the living room with several young girls at her feet, some talking frankly about problems they couldn't share with their own mothers. Jack and Katy were determined to raise independent, free-thirking children, giving them the tools to go their own direction and build a life for themselves. They succeeded.
Katy carried that involvement into the classrooms of Marquette Elementary School as room mother and to the sidelines as she watched her children and grand-children compete in athletic events. She was an active member of St. James her entire adult life and served as the UTO chair for 29 years. Her spiritual life was the foundation on which her family life and friend-ships were built and she loved the Cathedral family very much. Like many of her children, Katy never hesitated to offer an opinion. An avid reader. she would delight In debate during conversation with friends and family about current events. Those who knew her cared for her deeply. She was regarded as a dependable. frugal woman who listened and was honest in her dealings with people. That loyalty extended to the Central Bears and the Fighting Irish. Services will be at 11:00 a.m. Tuesday at the Episcopal Cathedral of St. James, 117 North Lafayette Blvd.. South Bend. Friends may call from 4 to 8 p.m. Monday in Welsheimer Family Funeral Home, 521 North William Street, South Bend.
Source: Newspapers.com
11/05/2023 EJS
Click here to see Catherine Virginia's last Profile entry.