In Memory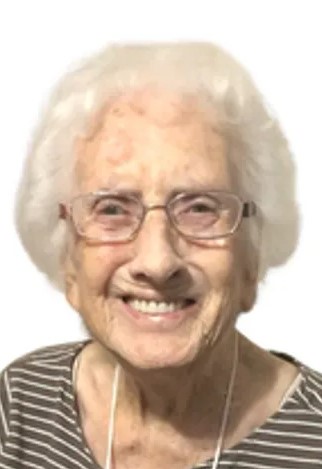 Naomi Ruth (Beghan) Milcherska
SOUTH BEND, IN - Naomi Ruth Milcherska, was called home to be with her Lord and Savior, and reunited with her husband, Leon, the love of her life, on Saturday, April 1, 2023 at 10:30 AM at the home of her granddaughter, Christine (Edward) Cooper, in Brownwood, TX, surrounded by family and her best friend Karen Suddarth of South Bend, IN.
Naomi was born on March 6, 1929 in South Bend to the late John Clifford and Sarah Elizabeth (Kennedy) Beghan. She has resided in South Bend her entire life, wintering in Texas for many years, and most often in Texas since widowed. On September 18, 1950 in Napolian, OH, Naomi and Leon P. Milcherska, Jr. were united in marriage. Leon preceded his wife in death on March 24, 2019 after 68 years of marriage. One sister, Leona Davis, and one brother, Adrian Beghan, preceded her in death.
Naomi is survived by two daughters, Penny (Thomas) Stankiewicz, Ruth (Antonio) Garcilazo; two sons, Anthony Ross Milcherska and John Paul (Judith) Milcherska; ten grandchildren, Christine (Edward) Cooper, Tracey (Joshua) Howard, JP (Tabitha) Milcherska II, Anthony (Shannon) Milcherska, Jr., Justin (Valerie) Stankiewicz, Terry Stankiewicz, Trevin (Amanda) Stankiewicz, Antonio Garcilazo II, Cristian Garcilazo and Enrique Garcilazo; seventeen great-grandchildren.
Naomi graduated from Central High School in South Bend, IN and was a proud foster parent for 28 years. She worked for Real Services, running a senior center for several years at the Lydick Lions Den and worked as a telephone representative for 7 years. Naomi enjoyed traveling with her husband after his retirement, and enjoyed sharing her time with family and friends.
Naomi was a faithful member of Lydick United Methodist Church for over 60 years and a member of the Lydick Lionettes. She enjoyed singing in the church choir, was a member of the Rebekah Lodge and a volunteer for Red Cross where she taught first aid for five years. Naomi was a Girl Scout Leader for many years and was also formerly active with the Junior Symphony. Naomi loved singing, dancing, laughing and playing games and maintained a joyful heart and smile all of her days here on earth.
Funeral services will be held at 11:00 a.m. on Friday, April 7, 2023 at the Lydick United Methodist Church, 26510 Edison Road, South Bend. Graveside services and burial will follow at Southlawn Cemetery, South Bend. Friends may visit with the family from 4:00-7:00 p.m. on Thursday, April 6th, at the Palmer Funeral Home-Guisinger Chapel, 3718 S. Michigan Street, South Bend. Friends may also visit with the family beginning at 10:00 a.m. on Friday at the church.
In lieu of flowers, contributions in memory of Naomi R. Milcherska may be donated to Lydick United Methodist Church, 26510 Edison Road, South Bend, IN 46628. Online condolences may be offered to the Milcherska family at www.palmerfuneralhomes.com
Posted online on April 03, 2023
Published in South Bend Tribune
04/03/2023 EJS
Click here to see Naomi Ruth's last Profile entry.