In Memory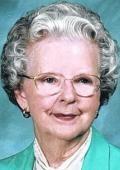 ELEANOR (BANKS) SWEITZER
Feb. 16, 1916 - Jan. 31, 2014
SOUTH BEND - Eleanor Banks Sweitzer, 97, passed away January 31, 2014, at the Sanctuary at St. Paul's. She was born in Brooklyn, New York, on February 19, 1916, to the late Parley and Helen (Heaton) Banks.
In 1935, in South Bend, Eleanor married Robert J. Lyons, who preceded her in death in 1949. In 1958, in South Bend, she was married to Robert D. Sweitzer, who preceded her in death in 1994. Four sisters, Dorothy Shambleau, Shirley Faller, Bernice Therkelsen and Beverly Simrall, and one brother, Parley F. Banks Jr., also preceded her in death.
She is survived by a son, Robert J. (Kathleen) Lyons Jr. of Sarasota, FL, and a daughter, Judith A. (Charles) Smith of Osceola, IN. She is also survived by four grandchildren, Lisa Lyons Wiley of Collingwood, Ontario, Laura Lyons (James) Lenhard of Landenburg, PA, Todd H. (Sheila) Bigelow of Lawrenceburg, IN, and Tracy Smith Megyesi of Osceola, IN; ten grandchildren; and several nieces and nephews. One brother, Philip M. Banks of Minneapolis, MN, also survives her.
Eleanor was an active member of First Presbyterian Church, South Bend, where she served as a Trustee and Elder. She graduated from Central High School and the South Bend College of Commerce.
She then worked as a secretary for Drs. Wright and Wright for many years, before retiring in 1976. She was a former member of the Junior League of South Bend, and served as a Director of the former Indiana Club, and was a member of the University Club. The family would like to express their appreciation and thanks to the staff at the Sanctuary at St. Paul's for their compassionate and loving care; and a thank you also to the staff at Center for Hospice and Palliative Care. A private entombment will take place at Riverview Cemetery.
A memorial service will be held at a later date. In lieu of flowers, contributions may be made to the First Presbyterian Church of South Bend, American Cancer Society, Center for Hospice Care, or to the charity of the donor's choice. To send condolences to the family, please visit www.McGannHay.com.
Published by South Bend Tribune on Feb. 5, 2014.
03/05/2023 EJS
Click here to see Eleanor's last Profile entry.