In Memory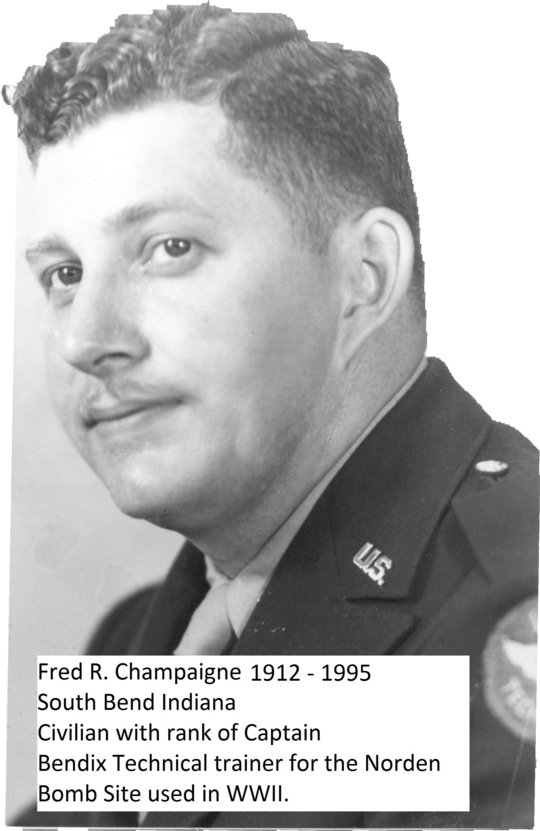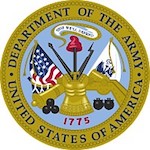 Frederick Raymond Champaigne
Apr. 13, 1912 - Jan. 4, 1995
Graduated from South Bend Central Highschool in 1931.
Attended Purdue University W. Lafayette for two years, lived on Pearl Street
Employed Bendix, South Bend In (?) 1932
Served with Army Air Corps as service technician for Norden bomb sites and gun turrets. Stationed in New Guinea and Australia. He fashioned his wedding band from a New Guinea coin by pounding edges and then drilling hole into center. Coin text is still visible on edge of ring. Serviced Jimmy Doolittle's plans prior to raids over Tokyo.
Lived in Dayton, Oh (this is where daughter Nancy was born) then moved to South Bend 1957 Englewood Place.
Returned to Bendix Home Appliance after war. He would photograph every piece of a home washer or dryer and create a service manual.
In 1957 he worked for Macdonald Cook Advertising Agency in downtown South Bend.
He had a home business call "Creative Graphics" with his brother in law Paul Smith. He prepared an hour long color movie of a construction company in LaPorte, In.
He returned to Bendix as a brake test technician until his retirement in 1974. He move to Dowagiac Michigan in 1976.

Obituary from South Bend Tribune Jan 6, 1995
April 13, 1912 - Jan 4, 1995
Memorial services for Fred R. Champaigne, 82, of Haley Road, Dowagiac, formerly of South Bend, who died at 3 pm Wednesday in Mercy Memorial Medical Center, St. Joseph, MI, will be at 1 pm Saturday in Welsheimer Funeral Home North, 17033 Cleveland Road. Cremation will take place with burial in St. Joseph Valley Memorial Park, Granger, IN. Friends may call two hours before services in the funeral home. Memorial contributions may be made to American Turners.

Mr. Champaigne retired in 1975 from Bendix Corp. as a brake technician. He was born April 13, 1912, in South Bend and lived in South Bend until 1977, moving to Dowagiac, MI. In 1934, in South Bend, he married Mariam Smith. She survives with a daughter, Pamela Champaigne of South Bend; two sons, Jack M. of South Bend, IN and James F. of Elkhart, IN; eight grandchildren; a great-grandson; a sister, Betty Hildebrand of South Bend, IN and a brother, Jack of LaPorte, IN. A daughter, Nancy Dunfee, died in 1990. He was a member of American Turners.
12/16/2021 DEC
Update 0708/2023
FRC
Dad was a Bendix employee with rank of Captain in the US Army. He was the instructor for the Norden Bomb sites while stationed in New Guinea. After the war, he and mom moved to South Bend in 1943 from Ohio. Nancy was five years old.
We lived at 1957 Englewood Place. I remember dad removing the coal fired furnace to upgrade to a gas furnace. This made more room for him to build his neon sign shop. I would watch him make signs for hours on end. This was his night time work. During the day he worked at Bendix Home Appliances. He documented the owners manual by photographing every piece in perfect perspective and then use a light table to assemble each tiny photograph into the exploded view. This required hours of detailed work.
A recession in 1951 caused us to move to 1416 Miami street into a duplex that could be rented to another family. The kitchen was gutted and updated to beautiful homemade cabinets and a dish washer. We spent much time peeling wallpaper off the walls built in 1905. Dad then remodeled the garage to become his new neon shop. Jack and I had areas for our hobbies. I learned how to repair vacuum tube radios for friends and relatives for a small fee. Dad also built a dark room for his extra work. He taught us how to wind our own film and develop and print them. Dad had converted a WWII radio into a receiver to listen to police and fire calls. He would grab his camera and race to a scene to make a 16mm movie he could then take to the local television station for nightly news. We built a shortwave radio from scratch. Called the Seven Seas Scout. With an antenna from the house roof to the garage we could listen to radio broadcasts from around the world.
Dad was able to buy a new car in 1957. A choice between a 1957 Chevrolet or a 1957 Plymouth. The Plymouth was a big mistake. Jack wrecked it on a date. Dad never showed any anger.
Nancy married in 1959 and moved to Florida and became an airline hostess. Mom and dad worked very hard to send Jack and me to Purdue. Dad had attended for two years in 1932 or 1933. The house on Miami was sold in 1963 and we moved to 2242 Beverly place in South Bend, about two blocks from our old house on Englewood. In 1975 a lot was purchased at Little Sister lake and a modular home was purchased for retirement living. Dad spent hours making fishing lures as a hobby. Christmas 1995 was the last time I saw dad. I remember telling him "good-bye father", rather than just dad. He passed away in January 1996.
JFC.
Click here to see Frederick Raymond's last Profile entry.