In Memory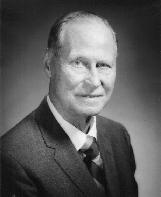 Frank Emerson Allen
Mar. 11, 1891 - Nov. 18, 1981
Son of Joseph Alonzo Allen and Almira Jane Sheek.
Married Kathleen R. Moore on December 25, 1944.
IU Athletic Director from 1955-61...won football letters in 1914 and 1915...participated in basketball and baseball...served on the IU Board of Trustees for 15 years, from which he was drafted to become Athletic Director...during his tenure the planning and building of IU's athletic facilities began in earnest, including Memorial Stadium, Assembly Hall, the new IU Fieldhouse, the 18-hole championship and par-3 golf courses and the football practice fields.
08/18/2021 DEC
Click here to see Frank Emerson's last Profile entry.