In Memory
Barbara Graham Currey (Lysohir) - Class Of 1945 VIEW PROFILE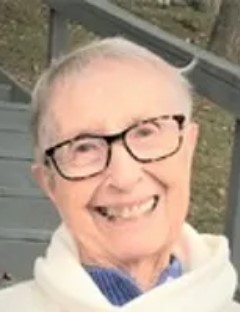 Barbara C. Lysohir
August 20, 1927 – July 29, 2022
Barbara Graham Currey Lysohir, 94, of Louisville passed away on Friday, July 29, 2022.
Barbara was born to David Graham Currey and Florence Elizabeth Lehmann Currey on August 20,1927 in South Bend, Indiana. She graduated from Central High School in 1945 and remained close friends with several for the rest of her life. The Central Bears had many adventures together including an unexpected encounter with an actual bear in the Boundary Waters. Barbara graduated from Miami University in Oxford, Ohio in 1949 with a Bachelor of Arts in English Literature. Barbara worked for IBM for several years, was an integral member of the Presbyterian Players community theater group, and in 1953 took a grand tour of Europe with her best friend, Mary Pappas.
Barbara married Alexander Lysohir of South Bend, Indiana on March 6, 1954. Alexander preceded her in death in 2005 after 51 years of marriage. She was also preceded in death by her parents, her sister Elizabeth Currey Altgelt and her sister Carolyn Currey Rogers. She is survived by her children, Rebecca Lysohir of Louisville, KY and Daniel Lysohir of Fort Myers, FL, and her foster daughters Susan Schenck of Quito Ecuador and Sally Schenck of Muncie, IN.
In 2007, Barbara moved from South Bend to Bloomington, IL to be near her daughter and where she met some wonderful friends. Barbara enjoyed playing bridge and joined a book club – she was an avid reader. She then, with regret, moved to Louisville, KY in 2017, again, to follow her daughter.
Barbara taught high school English for several years and volunteered as a docent at the J. D. Oliver Mansion, Copshaholm. She was also a long-time volunteer for Meals on Wheels. She was a member of the First Presbyterian Church and sang in the choir for several decades.
Barbara played tennis and was a talented landscaper who loved her white 'moon' gardens. She was also an excellent hostess and enjoyed holding dinner parties and celebrations. The Lysohir New Year's Eve parties were a great example of how she entertained their wide circle of friends. She was a welcoming friend, a great listener, and kept up with world events until her last days. She touched many lives and will be missed.
Donations may be made in her memory to Doctors Without Borders or to the charity of choice.
Posted online on August 04, 2022
Published in South Bend Tribune
08/05/2022 EJS
Click here to see Barbara Graham's last Profile entry.