In Memory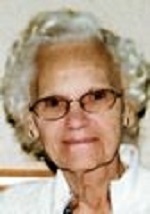 Betty Jane Cochran
Information of Betty's passing obtained from sister Bernice's obituary
From Ancestry:
| | |
| --- | --- |
| Spouse | Max Alvin Reeder |
| Father | Benjamin Thomas Cochran |
| Mother | Leora B. Etter |
| Birth | 26 Apr 1927 South Bend, St Joseph, Indiana, USA |
| Death | 10 Dec 2011 Mishawaka, St Joseph, Indiana, USA |
| Residence | 1945 South Bend, St Joseph, Indiana, USA |
1/6/2022 EJS
Betty Jane Cochran Reeder
Apr. 26, 1927 - Dec. 10, 2011

SOUTH BEND - Betty J. Cochran Reeder, 84, of South Bend, passed away at 5:45 a.m. Saturday at St. Joseph's Regional Medical Center, Mishawaka, IN.
Betty lived above and worked at Cochran's Grocery, the family store on Sorin Street. She raised her family and helped her mother for many years. She was then employed through Notre Dame Security in the Breen Phillips Dorm at the University of Notre Dame for 26 years.
She was born on April 26, 1927, in South Bend, to the late Benjamin and Leora (Etter) Cochran, and had lived in this area all of her life. On June 1, 1947, in South Bend, she married Max A. Reeder, who preceded her in death on May 24, 2009.
Survivors include one daughter, Leora I. (Robert Johnson) Reeder of Lafayette, IN; two sons, Thomas A. (Judith A.) Reeder of Richmond, KY, and James B. (Kim) Reeder of Rome City, IN; five grandchildren, seven great-grandchildren and two great-great-grandchildren; and a sister, Bernice Ricker of South Bend.
Funeral services will be held at 11:00 a.m. Wednesday, December 14th, at Evangel Heights United Methodist Church. 114 North Ironwood, South Bend, IN 46615. Burial will follow at St. Joseph Valley Memorial Park, Granger, IN.
Friends may visit with the family from 3:00 to 8:00 p.m. Tuesday in the Palmer Funeral Home - Hickey Chapel, 17131 Cleveland Road, South Bend, IN 46635, and one hour prior to services in the church. Contributions in memory of Betty Jane Reeder may be made to the American Heart Association .
Online condolences may be sent to www.palmerfuneralhomes.com.

Published in South Bend Tribune on December 12, 2011
04/24/2022 DEC
Click here to see Betty Jane's last Profile entry.