In Memory
Frederick Leroy Flagle - Class Of 1941 VIEW PROFILE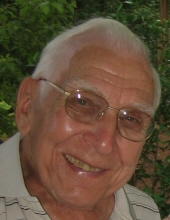 Frederick Leroy Flagle
Frederick L. Flagle, 92, passed away Friday, December 25, 2015 in his home.

Fred was born March 3, 1923 in South Bend to the late Frederick and Anna (Steely) Flagle. On March 3, 1945 Fred married his loving wife Elouise (Klopenstein) Flagle, she preceded him in death on August 23, 2015. He was also preceded in death by a son, Jon Flagle; and a brother, Donald Flagle.

Fred is survuved by his sons, Craig (Debra) Flagle of Madison, GA., and Mark (Caryl) Flagle of Mishawaka; grandchildren, Renee (Karl) Meyer, Michelle (Scott) Floss, Zachary Flagle, and Scott (Kim Wireman) Flagle; great-grandchildren, Sydney, Alex and Max Meyer, Marah Floss, Alyssa Wireman and Noah Flagle.

Fred retired in 1986 from Ohio Casualty where he was an adjuster for twenty-four years. Two great passions of his were model aviation and tennis. Fred was a lifelong member of the Academy of Model Aeronautics and he was very active in two local radio control flying clubs. He was well known for his exacting craftsmanship as well as his flying skill. Fred would tell you that his greatest pleasure was being able to teach new enthusiasts, both young and old, the art of flying their own aircraft.

Fred was also a tremendous fan of anything associated with the sport of Tennis. He always loved playing and competing. Fred played until he was eighty four years of age when, because of arthritis, he could no longer hold onto the racquet. Fortunately, the timely birth of cable TV's "Tennis Channel "helped ease his very reluctant retirement from physically participating in the game.

Visitation for Fred is 1:00 pm to 3:00 pm, Saturday, January 2, 2015 in ST. JOSEPH FUNERAL HOME, 1827 E. Ireland Rd. where a Funeral Ceremony will be held at 3:00 pm.
07/20/2022 EJS
Click here to see Frederick Leroy's last Profile entry.