In Memory
Alice Esther Chmielewski (Janowiak) - Class Of 1941 VIEW PROFILE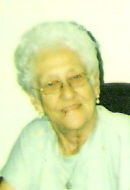 Alice Esther Chmielewski Janowiak
SOUTH BEND - Alice Esther (Chmielewski) Janowiak, 88, of South Bend, IN, passed away at 1:45 a.m. Saturday, January 7, 2012, in the Sanctuary of St. Paul's. Alice was born on April 28, 1923, in South Bend, to Joseph and Stella (Kitkowski) Chmielewski, and was a lifelong resident.

On September 17, 1949, in St. Stanislaus Church, as Alice Esther Chmielewski, she married Edwin M. Janowiak, who preceded her in death on December 28, 1989. Also preceding her in death were four sisters, Sophie Rzeszewski, Martha Juhas, Josephine Chmielewski and Marie Chmielewski; two brothers, Leonard and Stanley, who died as an infant; and one sister-in-law, Mary Chmielewski. Survivors include three daughters, Lucette (Frank) Osborne of Demopolis, AL, KarenSue Janowiak of South Bend, IN, and Maryalice (Craig) Leber of Fort Washington, PA; one son, Michael Janowiak of South Bend, IN; ten grandchildren, Ellen (Mark) Wood, Elizabeth (John) Osborne-Jackson, Colleen Kennedy, Matthew (Natalie) Kennedy, Brian (Crystal Pratt) Kennedy, Curtis (Lana) Kennedy, Meredith Leber, Kathryn Leber, Thomas Leber and Nora Leber; four great-grandchildren, Vada Kennedy, Gillian Kennedy, Logan Wood and John Osborne-Jackson; one sister, Virginia Jelinski of South Bend, IN; and one sister-in-law, Genevieve McCaige of Paw Paw, MI.

Alice was a lifelong member of St. Stanislaus parish. She was a member of the St. Stanislaus Choir, Apostleship of Prayer, Goodwill Club, Bethany Ladies, and coordinator of the St. Anne's Novena. She was also a member of the Daughters of Isabella and Harvest House. Alice was a great cook and baker. She was known for her pierogi, wedding cakes, and hundreds of pounds of Christmas cookies. She enjoyed going to the casino with her husband, sisters and friends.
06/18/2022 EJS
Click here to see Alice Esther's last Profile entry.