In Memory
Leona Jane Bartozek (McKnight) - Class Of 1941 VIEW PROFILE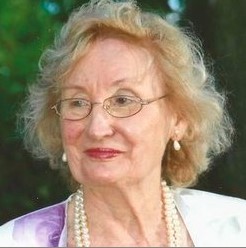 Leona Jane Bartoszek McKnight
Leona Jane Bartoszek McKnight, 92, passed away Thursday, July 16, 2015 in Memorial Hospital of South Bend.

Leona had a zest for life and learning, loved her family and friends. She was always eager to meet new people and dance, dance dance. She took every opportunity to join community groups and give of herself in the kindest and most fun way imaginable. She loved to share jokes, songs, stories, and loved Big Band music and the movies of the 1940's. She was infinitely proud of her children, and grandchildren, and participated in every event possible in their lives. On July 1st, she got to see the South Bend Cubs play.

A lifelong resident of South Bend, she was born on July 23, 1922, to Sophie (Wegenka)and Sydney Bartoszek along with her twin Loretta, who passed away in 1967. She was married to Walter H. McKnight on October 11, 1952. He died July 9, 2003.

Surviving are two children Melanie Brewer and Scott McKnight, and his wife Michelle, three grandchildren Shannon Rooney, Jesse Brewer and Haylee Brewer, and one great-grandchild Jacob Brewer-Rooney. They all live in South Bend. She is survived by four siblings: Lucille Hogan of Los Gatos, California, Patricia Zurat and John Bartoszek of South Bend and Paul Bartoszek of Sun City, Ariz. Also many nieces and nephews who loved and admired her grace, kindness and flair.

Leona graduated from Central High School in 1941 . She left South Bend, following her twin sister, to New York City, where they attended Barbizon Modeling School and enrolled with the Harry Conover Agency. They modeled in New York for several years, doing many ads together, and Leona often remembered that time as one of the great adventures of her life. Leona met her husband in high school .She worked as a candy girl at the Palace Theatre in the 1940s where Walter was an usher. Her twin sister worked across the street at the Granada Theater. Leona belonged to many social organizations throughout her lifetime. During World War II she belonged to the Gray Ladies of the Red Cross, and the USO in the Palais Royal and at Notre Dame, meeting with the Officers in training called the "90 Day Wonders." After her retirement she became a mentor in the South Bend Community School Corporation, serving for man years. She was a Golden Troubadour with the troupe at Bethel Center, singing at various events for shuts in and the disabled. She had a local community history program including a display of pictures that her husband collected in the 1940's from various famous acts that performed at the Palace Theater. She enjoyed presenting to many civic groups around the area. She was also the family historian and took this job very seriously, saving many items from the past and putting her story on CDs. She was a member of Sacred Heart Parish. She loved visiting Notre Dame and supporting the Fighting Irish. Her kind heart, unconditional love and positive outlook on life will sorely be missed by her family who looked to her for inspiration and words of wisdom until the very end.

The family thanks the staff of the 7th Floor of Memorial Hospital for their kindness during her last illness.

A Mass of Christian Burial will be at 1 pm on Wednesday, July 22nd At Christ the King Church..

Visitation with the family will be at the church one hour before the mass. Burial will be in Highland Cemetery.

In lieu of flowers donations can be made to Pet Refuge if desired.
06/14/2022 EJS
Click here to see Leona Jane's last Profile entry.