In Memory
Edwin Lowell Bateman - Class Of 1954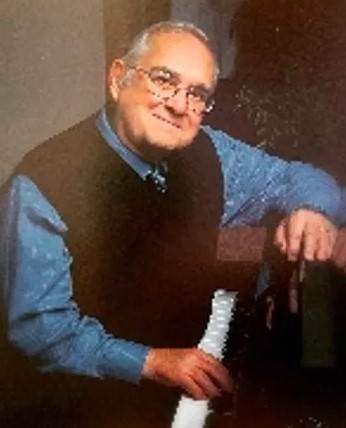 Edwin L. Bateman
Edwin L. Bateman, 88, of Wylie, TX (formally of Granger, IN), passed into God's kingdom peacefully on Wednesday, April 26, 2023, at home. He was born in Gary, IN on November 15, 1934, to Kenneth Sr. and Ruth Bateman. He was married for 58 wonderful years to his college sweetheart, Carmen Steininger, who preceded him in death and was blessed with three precious children: two sons, Keith (Bev) Bateman of Anchorage, AK, Randall Bateman of Norman, OK and daughter, Dawn Bateman of Wylie, TX. He enjoyed his grandchildren: Heather (Chaz) Gould of Jones, MI, Paul Bateman of Gastonia, NC, Miranda (Corey) Dyer of Brownsfield, TX, Jeff (Carolyn) Hawkins of Riverside, MO, Stephanie (Sean) Henderson of Riverside, MO and 9 great grandchildren. Edwin is also survived by his brother Kenneth Jr. (Diane) Bateman of Garland, TX and preceded in death by his sister Eileen Bateman. Dawn often reminded him that he also has two "grand-dogs", Spencer and Walter.
Edwin was a graduate of South Bend Central High School in South Bend, IN. He graduated with a BS Degree in Music Education from Olivet Nazarene University and also held a master's degree in Music from Ball State University. Edwin began his career with the Penn-Harris-Madison School Corporation as a fourth-grade teacher but was soon extended the opportunity to serve the school district as an elementary music teacher at Harris-Mary Frank, Elsie Rogers, Madison, and Prairie Vista Elementary Schools. He also taught music for one year at Schmucker Middle School, serving the PHM School Corporation for a total of 37 years. After retiring, he was also asked to teach music at Corpus Christi Catholic School for several years.
Edwin also taught private piano lessons for over 50 years, including one family member whose child AND grandchild also took lessons from him. Over the course of his adult life, Edwin taught music to thousands of children (and a few adults as well)!
Edwin loved and served his Savior and Lord, Jesus Christ, as a Music Director at South Bend First Church of the Nazarene for over twenty-five years and continued to play the piano for the church for at least two more decades. Edwin moved to TX in January 2021 to be closer to his brother and sons, sharing his home with his daughter.
A visitation is planned for Friday, May 12th at the Chapel Hill Funeral Home, 10776 McKinley Hwy, Osceola, IN 46561 from 4:00pm to 7:30pm. Funeral services are planned for Monday, May 15th at South Bend First Church of the Nazarene, 51690 Ironwood Rd., South Bend, IN 46635 with a brief visitation at 10:00am-11:00am and Funeral service at 11:00am. Burial will be in Chapel Hill Memorial Gardens. In lieu of flowers, those wishing to make a memorial donation in honor of Edwin are asked to consider the South Bend First Church of the Nazarene Music Ministry. To share remembrances of Edwin or to offer condolences to his family, please visit www.chapelhillmemorial.com.
Posted online on May 08, 2023
Published in South Bend Tribune
05/09/2023 EJS