In Memory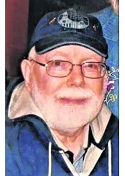 Fred G. Buechner
Mar. 22, 1937 - Apr. 27, 2021

SOUTH BEND - Fred G. Buechner, age 84, of South Bend, Indiana, passed away on 4/27/2021. He was a beloved husband, step-father, grandfather, and great-grandfather to our large family. He also was the son of the late physician Dr. Fred W. Buechner and the late Vera M. Peters Buechner. Fred was a graduate of South Bend Central High School in 1955. In 1960 he graduated with a B.A. degree from Indiana University. Then in 1962 and 1963, he graduated from the University of Notre Dame with M.A. and M.A.T. degrees.

Fred taught English in School City of Mishawaka for 35 years in three different schools - Main Jr. High School, John Young Jr. High School, and Mishawaka High School. Among his many accomplishments, he was especially proud of his writing an English curriculum for gifted students for grades 7 and 8. On January 6th, 1990, he married the love of his life, Gail Parr Martin. They were happily married for 30 wonderful years. During those years, they enjoyed traveling, attending Shakespeare's plays, and church classes.

His wife Gail Buechner predeceased him in February of 2020. Also, his grandson, Joseph Przybylski II, passed away in August of 2018. Fred is survived by his step-daughter, Jennifer Przybylski (Joseph) and his step-son, Joseph Martin. He is also survived by 9 grandsons and granddaughters: Matthew Przybylski, Benjamin Przybylski, Jacob Przybylski, Stephanie Plencner (Matt), David Przybylski (Luci), Katelyn Przybylski, Reba Martin, Joey Martin, and Billy Martin. Also surviving are 9 great-grandchildren: David and Bella Przybylski, Joey and Willow Plencner, Juliana, Ashley, Michelle, Jolene, and Sofia Przybylski (Elizabeth, Mother). Surviving cousins are Greg Gessinger, Mark Gessinger, Julia Truex (Don), and Dr. John Buechner (Katie).

Fred was an active member at his home church, the Cathedral of St. James. He served as a camp counselor and registrar for 15 summers at the Bishop White and Gray camps. He also served as an acolyte, lay Eucharistic member, lector, and Sunday school teacher. With the help of the Dean, he reinstituted the formation of the Brotherhood of St. Andrew at the cathedral. He had a special devotion to Our Lady of Walsingham in England.

A requiem Eucharist will be held at the Episcopal Cathedral of St. James, 117 North Lafayette Blvd. on Saturday, May 1st, 2021 at 10:00 A.M. Committal services and entombment will follow at Riverview Cemetery. The family will receive friends in the church one hour prior to the service.

In lieu of flowers, memorial gifts may be sent to the Cathedral of Saint James, 117 N. Lafayette Blvd., South Bend, IN 46601. Palmer Funeral Home - Welsheimer is assisting the family with arrangements. Family and friends may leave email condolences at www.palmerfuneralhomes.com.
04/30/2021 JFC
Click here to see Frederick George's last Profile entry.