In Memory
Patricia Ann Flowers (Weller) - Class Of 1950 VIEW PROFILE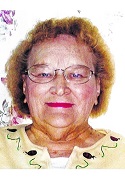 Patricia Ann Weller
March 17, 1932 - Jan. 30, 2021
MISHAWAKA, IN -
Patricia Ann Weller, 88, passed away peacefully at her residence in Mishawaka on the morning of Saturday, January 30, 2021. Mom was pleased that she could compose her own obituary.

Pat was the daughter of Joseph Flowers and Rose Strzelecki, both of whom preceded her in death. She had four brothers who also preceded her in death: Robert, Ronald, Jerry, and Joseph, Jr. She has one cousin, Louise Patterson of New Mexico, who survives her.

Pat was united in marriage to Mr. Lloyd Weller on April 25, 1959. He preceded her in death in 2014, after 55 years of marriage.

Pat and Lloyd had four beautiful children: Carol (Joe) Wagner, David Weller, Susie (Rick) Duis, and Brian (Sandy) Weller. Pat and Lloyd also had twin baby girls, Mary and Ann, who died at birth.

Pat graduated from Central High School in 1950 and went to work for Bendix Corporation for 12 years. She was a stay-at-home mom for a period of time while her children grew up. Later, she went back to work for the South Bend Community School Corp. at Edison School cafeteria for 19 years. She retired on October 18, 1998.

After retiring, she enjoyed going to bingo, cookouts with the family, and playing with her grandchildren and great-grandchildren. Caleb, Colten, Terra and Emby, her favorites, brought much joy to her heart.

Pat had two grandsons, Steven Wagner and Ricky Lee Duis II; and five beautiful granddaughters: Jennifer Munoz, Nicole Hagen, Angela Lalevee, Crystal Neyens, and Nicole Behne. She also had 18 great-grandchildren: Caleb, Colten, London, and Camden Hagen, Terra, Eliora, Ember, and Quinnlan Munoz, Gabe and Gavin Neyens, Leah, Abigail, and Nicholas Lalavee, Evan and Lucas Gaylor, Julian, Jonathan, and Samantha Duis.

Special thanks to Pat's daughter Carol and her family for taking care of Pat, especially when her husband Lloyd passed away. Also a special thanks to nurses and other help from Hospice during my time with them.

Pat's last wishes were to have a private Mass of Christian Burial at St. Anthony dePadua Catholic Church after being cremated, to take her soul home to her loving God. Palmer Funeral Home-River Park, South Bend is assisting the family with arrangements. Any donation may be made in Pat's name to Center for Hospice and Palliative Care - Mishawaka, 501 Comfort Place, Mishawaka, IN 46545. Online expressions of sympathy can be left at www.palmerfuneralhomes.com.
02/03/2021 JFC
Click here to see Patricia Ann's last Profile entry.