In Memory
Marianne Frances Borges (Wiles) - Class Of 1950
VIEW PROFILE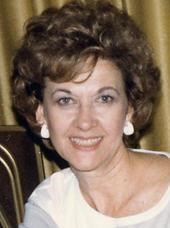 MARIANNE F. (BORGES) WILES
Wiles, Marianne Frances
83, of Scottsdale, Arizona passed away peacefully on February 23, 2015. She was born on June 25, 1931 in Sturgis, Michigan to Russell and Leona Borges.
She grew up in South Bend, Indiana and graduated from South Bend Central High School in 1950.
Upon graduation, she became a private secretary to a bank president. She married Robert D. Wiles on November 15, 1952, and they moved to Phoenix, AZ in 1956. She continued in secretarial work until their first child was born. She was a beloved wife and she became a loving mother to their four children. She was a stay-at-home mother until their youngest child entered high school. She resumed her secretarial work and became the private secretary to an insurance executive and finally the private secretary to the principal partner in a prominent law firm.
Upon her retirement in 1990 she became a volunteer at Scottsdale Healthcare-Osborn. She volunteered for 12 years in the nursery and maternity ward taking care of newborns, which she dearly loved. She will be forever remembered for her love and devotion to her family.
She is survived by her husband, Robert D. Wiles; daughters Susan Wiles Serrano and Patricia Wiles DiGiovanni (Paul); sons James Russell Wiles and Thomas Robert Wiles (Debra); six grandchildren Nicole, Danielle, Nicholas, Colette, Zachary and Isabella; two great-grandchildren Dax and Maddox; a brother Thomas Borges (Carolyn); and many nieces and nephews.
There will be private family services followed by interment at St. Francis Catholic Cemetery. In lieu of flowers, donations may be made to Lane's Assisted Living, 8416 E. Holly St., Scottsdale, AZ 85257, 480-970-6401. Arrangements entrusted to Messinger Indian School Mortuary.
Published by The Arizona Republic on Mar. 1, 2015.
03/11/2023 EJS
Click here to see Marianne Frances' last Profile entry.