In Memory
Doris Ann Elbel (Brown) - Class Of 1947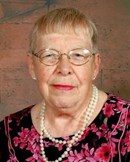 Central 1947 Doris (Elbel) Brown
June 22, 1929 - Dec. 13, 2017
LAPORTE - Doris Ann Brown, 88, of La Porte passed away on Wednesday, Dec. 13, 2017, at Fountainview Terrace in La Porte.
Doris was born in South Bend, Indiana, on June 22, 1929, to Clarence A. and Ludelia (Gosline) Elbel.
On Aug. 22, 1948, in South Bend, Indiana, she married Robert E Brown, who preceded her in death. Surviving are her beloved daughters, Kristine (Brown-Shupert) Elliott of La Porte, Sandra (Brown-Goodman) Ikenaga of San Antonia, Texas; son, William E. Brown of Urbana, Ohio; 14 grandchildren, Russell and Robert Shupert, Kimberly (Shupert) Hill, Lisa (Shupert) Phillips, Robert, David and Matthew Elliott, Nancy (Elliott) Harris, Jack Ikenaga, Jr., Christine Ikenaga, Nancy (Ikenaga) Sumner, Eric Goodman, Jennifer (Brown) Hillyer and James Brown; and 26 great-grandchildren.
She was preceded in death by her parents; her husband, Robert E. Brown; son, James Alan Brown; and brother, James A. Elbel.
Doris was a 65-year member of the Eastern Star and was the only person in the state of Georgia to be recognized as such. She was a member of and past president of Madora Garden Club, Hartwell Chapter, a master quilter and past president of Quilters of the Heart. Doris graduated from Central High School in South Bend, Indiana. She also graduated with her B.A. from Indiana University with a degree in Business.
Cremation has taken place with Cutler Funeral Home and Cremation Center, La Porte.
A Celebration of Life Memorial Service will be held at 11 a.m. (CST) on Saturday, Dec. 23, 2017, at Door Village United Methodist Church, with Pastor Robert Denney officiating.
A time of visitation will be held from 4-7 p.m. (CST) on Friday, Dec. 22, 2017, at Cutler Funeral Home and Cremation Center and from 10 a.m. on Saturday until the time of the service at Door Village United Methodist Church.
Memorial contributions may be directed to St. Jude Children's Research Hospital, PO Box 1893, Memphis, TN 38101-9950; Suzan G. Koman Breast Cancer, Susan G. Komen, Dept. 41831, P.O. Box 650309, Dallas, TX 75265; or to the charity of the donor's choice.
Condolences may be shared with the family online at www.cutlerfuneralhome.com.
Published in South Bend Tribune on Dec. 20, 2017
jmc 20 dec 2017