In Memory
Janice Yvonne Blume - Class Of 1951 VIEW PROFILE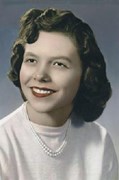 Central 1951 Janice Yvonne (Blume) Andrews
Aug. 27, 1933 - Nov. 17, 2017
SOUTH BEND - Janice Yvonne Andrews, 84, of Ashmont Place, South Bend, Indiana, passed away at 2:15 am on Friday, November 17, 2017 at her home. She was born on August 27, 1933 to Harold and Florence (Cross) Blume in Richmond, Indiana, both of whom preceded her in death. The daughter of a pharmacist, his work moved the family from Richmond to Kokomo, Gary and eventually South Bend, where her father bought his own drug store and named it Blume Pharmacy. While in Gary, she became interested in dance and studied Classical Ballet, point tap and character. Even after moving to South Bend, she traveled several times a week to study from the famous Stone-Camryn School of Dance which has produced scores of professional dancers. She later turned professional and toured. She graduated from Central High School where she was active in theater and was a member of the Barn Stormers. She was featured in many plays directed by James Lewis Cassidy and worked with the now famous actor-director, Sydney Pollack. She married Wayne Allen Andrews on September 23, 1951 and enjoyed 66 years of marriage. Wayne was a former stock boy for her father, who went on to Pharmacy School at Butler University. After graduation, he came to work for her father at Blume Pharmacy. After her marriage, she taught dance to many local children in the South Bend/Brandywine area. After her father's death, they purchased Roseland Pharmacy. She did the store bookwork and buying, and became known for her customized Easter baskets. Her passions in life were dance, theater, travel, and animals, especially Boston Terriers. She has raised and loved six: Puggy, Andy, Andy II, My Sweet Lucifer, Gabby, and most recently, Houdini. With her husband Wayne, she has traveled extensively to Europe, New Zealand, Australia, Egypt, Morocco, and China. She even went on an African Safari. Later in life, she became interested in Hula. She has performed with a local group and traveled to Honolulu to study with the professionals from the Polynesian Cultural Center. Janice is survived by her husband, Wayne along with a daughter, Pamela (Larry) Aaron of South Bend. Also surviving is a brother, Richard (Wendy) Blume of Elkhart. She was preceded in death, along with her parents by a brother, Larry (Karen) Blume of Mishawaka and a sister, Sharon (Joseph) Lingerfelt of New Mexico. Friends will be received from 4:00 pm until 7:00 pm on Monday, November 20, 2017 at Bubb Funeral Chapel, 3910 North Main Street, Mishawaka, Indiana. Burial will follow on Tuesday at Ferrisville Cemetery in Mishawaka. The family has requested that memorial contributions be made to the Center for Hospice Care.
Published in South Bend Tribune on Nov. 19, 2017
jmc 19 nov 2017
Click here to see Janice Yvonne's last Profile entry.