In Memory
Elaine Fargo (Abell) - Class Of 1938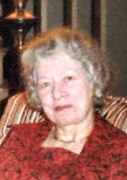 Central 1938 Elaine (Fargo) Abell
Dec. 16, 1920 - Aug. 9, 2017
SOUTH BEND - Elaine Fargo Abell, age 96, of South Bend, IN, passed away on the morning of August 9, 2017.
Elaine was born on December 16, 1920, in Gary, IN, to William R. and Elizabeth (Barbaro) Fargo. She moved from Gary to South Bend as a child and graduated from Holy Cross Grade School and Central High School. She earned a degree in biology from St. Mary's College. Elaine volunteered for the Red Cross during World War II and was a social worker for the South Bend Health Department. On July 26, 1946, Elaine was married to Thomas M. Abell, Jr. at Holy Cross Catholic Church in South Bend, IN. She worked for Bendix Home Appliances until her first child was born.
Elaine filled her life with what she loved. She was an avid reader and collector. She enjoyed traveling and was always delighted when family members' relocations gave her the opportunity to see other parts of the country. She was also very proud of her children's and grandchildren's accomplishments. Elaine had an incredible ability to remember people and events that shaped her, and she loved to share these stories with her family, weaving a picture of a life well-lived.
Elaine is survived by her daughters, Anne Marie (David) Olson of Freedonia, WI, and Carol (Herb) Wissel of Indianapolis, IN; son, Thomas (Lisa) Abell of Mishawaka, IN; seven grandchildren; and sister, Jean Gryp of Mishawaka, IN. Elaine was preceded in death by her husband, Thomas (October 8, 1975) and by her brothers, William Fargo, Jr. and Robert Fargo.
Funeral services for Elaine will be held at 1:00 PM on Friday, August 11, 2017, at Holy Cross Church, 1050 Wilber St., South Bend, IN 46628. Friends may visit with the family 12:30-1:00 PM. Rev. Vincent Coppola will officiate. Burial will follow at Highland Cemetery. Memorial contributions in honor of Elaine may be made to Holy Cross Church. Online condolences may be given at www.palmerfuneralhomes.com.
Published in South Bend Tribune on Aug. 10, 2017
jmc 12 aug 2017