In Memory
Patty Ann Bunch (Geyer) - Class Of 1946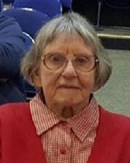 Central 1946 Patty Ann (Bunch) Geyer
July 09, 1928 - June 22, 2017
LAKEVILLE - Patty Ann Geyer, 88 years old, passed away on Thursday morning, June 22, 2017 at St. Paul's Retirement Community, South Bend. Mrs. Geyer was born on July 9, 1928 in South Bend to the late Harold D. Huff and Irene P. (Howell) Bunch. She has been a lifelong area resident. On March 21, 1948 in Lakeville, Patty Ann and Harold Jay Geyer were united in marriage. Her husband, Harold of 69 years, preceded her in death on April 24, 2017. One brother, Karl Huff, also preceded her in death.
Mrs. Geyer is survived by her three daughters, Karen Taylor of South Bend, Sharen (Anthony) Armaly of Sebring, FL, and Nancy (James) Kistler of Columbus, IN; six grandchildren; and several great grandchildren.
Mrs. Geyer was a longtime member of the Lakeville United Methodist Church where she was also a member of the United Methodist Women. She was a graduate from South Bend Central High School. Mrs. Geyer worked side-by-side with her husband on the farm. She was active with many church activities and with community service, and especially, with her children's and grandchildren's interests.
Funeral services will be held at 11:00 a.m. on Monday, June 26, 2017 at the Lakeville United Methodist Church, 610 N. Michigan Street, Lakeville. Pastor Brian White will officiate. Graveside services and burial will follow at Bremen Cemetery. Friends may visit with the family one hour prior to services at the church on Monday. Palmer Funeral Home, Lakeville is assisting the Geyer family.
Contributions in memory of Patty Ann Geyer may be donated to Lakeville United Methodist Women, P.O. Box 24, Lakeville, IN 46536 or to Reins of Life, 55200 Quince Road, South Bend, IN 46619. Online condolences may be offered to the Geyer family at www.palmerfuneralhomes.com.
Published in South Bend Tribune on June 24, 2017
jmc 26 Jun 2017