In Memory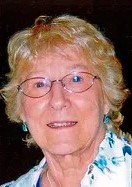 Louise F. (Cebulski) Nufer
Louise F. Nufer, 92 years old, passed away at 9:41 a.m. on Thursday, February 16, 2023 at Hospice House, Mishawaka with her sons by her side. Louise was born on October 7, 1930 in South Bend to the late Burton and Lottie (Wieczorek) Cebulski. She has been a lifelong resident of South Bend, living in Angola, IN from 1983-1996 before returning to South Bend. On August 12, 1950 in South Bend, Louise and Donald J. Nufer were united in marriage. Don preceded her in death on May 2, 2020 after 69 years of marriage. She was also preceded in death by her two sons, James Nufer and Mike Nufer.
Louise is survived by her two sons, Tom D. (Sandra) Nufer of South Bend and David A. (Susan) Nufer of Mishawaka; eight grandchildren, Pilar (Andrew) Walton, Jennifer (Mike) Martin, Brian (Jennifer) Nufer, Joey (Emily) Nufer, Nicole (John) Lehman, Katie (Steve) Hill, Kimberly Youngs, and Christopher (Anri) Miller; and fourteen great grandchildren. Louise is also survived by her brother, Burton Cebulski, Jr. and sister-in-law, Bonnie Breden; along with many nieces, nephews and extended family who loved her very much.
Louise was the proud owner of Burton's Laundromat for 20 years, retiring in 1983. Her greatest treasures were her children, grandchildren, and great grandchildren. She took great pride in her family's accomplishments.
Private services will be held at 11:00 a.m. on Tuesday, February 21, 2023 at the Palmer Funeral Home-River Park Chapel, 2528 Mishawaka Avenue, South Bend. Pastor Aaron Mattix will officiate. Visitation will be held one hour prior to the service. Entombment will follow at Highland Cemetery, South Bend.
In lieu of flowers, contributions in memory of Louise F. Nufer may be donated to Hospice House, 501 Comfort Place, Mishawaka, IN 46544. Online condolences may be offered to the Nufer family at www.palmerfuneralhomes.com.
Posted online on February 16, 2023
Published in South Bend Tribune
02/17/2023 EJS
Click here to see Louise France's last Profile entry.