In Memory
Patricia Ann Brannan (Hilgendorf) - Class Of 1948
VIEW PROFILE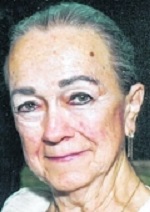 Patricia Ann Hilgendorf
Jul. 7, 1929 - May 5, 2013

SOUTH BEND - Patricia Ann (Brannan) Hilgendorf passed away peacefully on May 5, 2013. Pat was born in South Bend, Indiana, on July 7, 1929.
She was a graduate of Central High School and attended Indiana University in Bloomington. She worked for the Federal Court system until she married Edward Carl Hilgendorf on August 4, 1955. Pat was a dedicated mother to her four children. She always put others first, and was the kind of person to whom people would tell their troubles even if they had just met.
She was preceded in death by her husband, Ed, and her parents, Ralph and Marion Brannan. Surviving her are three daughters, Kathleen (Kim) Ecker of Elkhart, Elizabeth Birchfield of Whidbey Island, WA, and Virginia (Raymond) Chiamulera of South Bend; and a son, Sean (Kerry) Hilgendorf of Niles. She also had seven grandchildren, Michelle (DJ) Seramur of Valparaiso, Kristine (Mathew) Liedtke of Valparaiso, Jeremy (Jaclyn) Birchfield and Fallon (Benjamin) Criswell, both of Whidbey Island, WA, Courtney (Wayne) Aberegg of South Bend and Colin and Bridget Hilgendorf, both of Niles; as well as ten great-grandchildren, Kieran Birchfield, Cowan and Caela Mae Criswell, of Whidbey Island, WA, Cole and Benjamin Seramur, and Luke Liedtke, all of Valparaiso, Morgan Aberegg of South Bend and Serinity, Dayton, and Jaden Birchfield, all of Whidbey Island, WA. Her brother, John Brannan, of Fort Myers, FL, and his three daughters, Ann, Susan, & Julie, also survive.
Visitation will take place at Palmer Funeral Home - Hickey Chapel, 17131 Cleveland Road, South Bend on Saturday, May 11, 2013 from 10:00 - 11:00 am, with a prayer service to be held at 11:00 am. Contributions in memory of Pat may be donated to the Center for Hospice Care, 4220 Edison Lakes Pkwy., Ste 210, Mishawaka, IN 46545. Online condolences may be left for the Hilgendorf family at www.palmerfuneralhomes.com. .
Published in South Bend Tribune on May 8, 2013.
04/25/2022 DEC
Click here to see Patricia Ann's last Profile entry.