In Memory
Nancy Lee Bright (Cronin) - Class Of 1961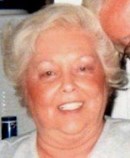 Central 1961 Nancy Lee (Bright) Cronin
Sept. 11, 1943 - March 5, 2017
EDWARDSBURG - Nancy Lee Cronin, 73 years old of Edwardsburg MI, passed to her rest March 5, 2017, at Elkhart General Hospital after an illness. She was born Sept. 11, 1943, in South Bend, IN. Preceded in death by parents 'Jack' Thomas Harry and Eunice Catherine (Whiteman) Bright.
Nancy graduated from Central High School (South Bend, IN) in 1961. She graduated from Vogue Beauty College and worked for many years as a licensed Beautician. She also worked as a Waitress/Bartender/Manager in several facilities. Her last job was at Osco's in Granger, IN.
She was preceded in death by her husband, Joseph L. Cronin (2012). Surviving are Nancy's children, George Fritsche, Joseph 'Joe' Fritsche (Annette), Catherine 'Cathy' (David) Woodill of Mesa, AZ.
Loving grandmother and great-grandmother of Anthony (Meredith) Woodill of Frisco, TX, Amanda (Chad Austin) Woodill, son, Parker Austin, Emily 'Emilee' Woodill of Nashville, TN, Samantha (Fritsche) (Marty) Nielson of Kalamazoo, MI, son, Brock, Michael Fritsche, Christopher 'Chris' (Courtney) Fritsche, son, Malachi, Ashley Fritsche, daughter Malaya, son Viktor.
The following siblings survive; Patricia Bright of South Bend, Judith 'Judy' Bright of Jimtown, Mary Bright-Thurston (Bob) of South Bend and John 'JB' (Robyn) Bright of Cassopolis. She was preceded in death by her brother, Thomas Jr., and his wife, Donna Bright of South Bend.
Nancy was a member of the American Legion in Edwardsburg. Her hobbies were BINGO, golfing, painting, watching her grandchildren, playing puzzles and games on her IPAD. If she didn't play words with her friends, within a few days, family and friends would call asking if she was alright ;-)
Family and friends may gather on Wednesday, March 15, 2017, from 1:00 to 3:00 PM at the Paul E. Mayhew Funeral Home, 26863 West Main Street, Edwardsburg. The Service of Remembrance will begin at 3:00 PM at the funeral home, with Rev. Scott Scheel, pastor of the Edwardsburg Presbyterian Church, officiating. Interment will follow at the Edwardsburg Cemetery where she will be laid to rest by her beloved husband, Joe. A reception will follow at the American Legion in Edwardsburg on US-12 from 4:00-6:00 PM.
Arrangements are by the Paul E. Mayhew Funeral Home.
Published in South Bend Tribune on Mar. 12, 2017
- See more at: http://www.legacy.com/obituaries/southbendtribune/obituary.aspx?n=nancy-lee-cronin&pid=184463928&fhid=8866&eid=sp_ommatch#sthash.OYD24fza.dpuf