In Memory
Doris Bahde (Schrop) - Class Of 1935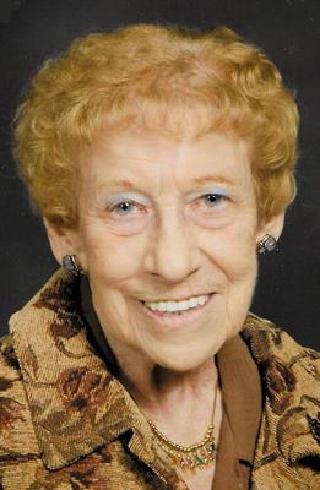 Central 1935 Doris (Bahde) Schrop
Jan. 3, 1917 - July 2, 2016
SOUTH BEND - Doris Martha Christina Bahde Schrop passed away at 5:21 pm on Saturday, July 2, 2016, at her daughter's home in Knoxville, Tennessee. She was born January 3, 1917, in South Bend, Indiana. She was the daughter of Carl Henry Bahde and Anna Henrietta Hoehne Bahde. Preceding her in death were her parents, her brother, Hugo Henry Bahde, and her husband, George Willard Schrop.
Her children are Joanne Patricia Ash of Fairfield, Ohio, Barbara Lynn Taylor (Paul) of Knoxville, Tennessee, Frederick James Schrop (Christine) of Park Ridge, Illinois.
Grandchildren are John David Woodham and Mark Allen Woodham (Michelle) of Columbus, Ohio, Timothy Carl Wood (Beth) of Hodges, South Carolina, Sarah Catherine Baurle (Eric) of Brentwood, Tennessee, Aaron George Schrop of South Bend, Indiana, Kevin James Schrop of Bellefont, Pennsylvania, and Brian Thomas Schrop of Park Ridge, Illinois, David Ash (Kelly) of Lexington, Kentucky, Tim Ash-Noda of Aichi, Japan, Cyndi Marquez (Fred) of Kennebunk, Maine. Great grandchildren are Trevor Gregory Dreibelbis of Bourbon, Indiana, Annabel Grace Wood and Makaela Rose Wood of Hodges, South Carolina, Nicholas George Woodham of Hilliard, Ohio, Everett Jameson Baurle and Sophia Charlotte Baurle of Brentwood, Tennessee. Other close family members include Blair and Jacqui Stewart of Palo Alto, California, Sarah and Bob Bergstrom of Fullerton, California, Velva and Elden Fisher of Vandalia, Illinois, Tom and Kathy Angus of Leland, Michigan. Longtime family friends are Linda, Jack and Scott Woodham of Loveland, Ohio.
Doris Schrop was a lifelong resident of South Bend, Indiana. She attended St. Paul's Lutheran School and graduated from Central High School and the Thomas Business College with a major in office management. Doris worked for the South Bend Credit Bureau and St. Joseph County Medical and Dental.
On June 7th, 1940, Doris married George Schrop, son of Frederick Hoffman Schrop of South Bend. Their home in River Park was a wedding gift from George's father. With the threat of WW II, George enlisted in the Navy and trained at Great Lakes Naval Base in Chicago. In the fall of 1943, while George was stationed in San Francisco, California, Doris and their first child, Joanne, traveled there to be with him before he shipped out to the Pacific Theater. Doris rented their River Park home and lived with her parents in South Bend during the remainder of the war. When George returned, they took up residency in River Park again. George worked for the Indiana and Michigan Electric Company until his retirement. They had two more children, Barbara Lynn and Frederick James. George passed away October 18th, 1985.
Doris was a member of St. Paul's Lutheran Church as a youth and Our Redeemer Lutheran Church on Wall Street for the rest of her life. She was a leader in the women's group at Our Redeemer and started the Prayer Chain and Visiting Committee outreach programs.
While her children were young, Doris supported their activities at Nuner School and John Adams High School. In 1982 Doris opened the Fireside Antiques Shop at 1211-1212 Mishawaka Avenue. She also owned Mill Street Manufacturing where multiple wood products were made and where Farmers Market now has parking. Over many years Doris assisted in the operation of the Indiana Press, a printing business her father started in the early 1930s.
Doris was a faithful friend to many and gave willingly of her time and talents to her family. She was the source of much love from her children, grandchildren and great-grandchildren. She enjoyed poetry and music, especially hymns. She was a member of the American Association of University Women and with George, the Antique Car Club and the United Commercial Travelers.
A celebration of Doris's life will be held at 11:00 am Saturday, July 9, 2015, at Our Redeemer Lutheran Church, 805 S. 29th Street, South Bend, IN 46615. Rev. Steven Latzke, pastor of the church, will officiate. Graveside services and burial will follow in Riverview Cemetery, South Bend, IN. The family will receive friends from 6:00 - 8:00 pm Friday at Palmer Funeral Home-River Park, 2528 Mishawaka Avenue, South Bend, and at church on Saturday, from 10:00 am until time of services. Memorials may be made to Our Redeemer Lutheran Church, 805 Wall Street, South Bend, 46615; or to Resurrection Lutheran Academy at 6840 Nimtz Parkway, South Bend, 46628. Online condolences can be expressed to the family at www.palmerfuneralhomes.com.
- See more at: http://www.legacy.com/obituaries/southbendtribune/obituary.aspx?n=doris-schrop&pid=180584068&fhid=7077&eid=sp_ommatch#sthash.g9EUh10i.dpuf