In Memory
Patrick Michael Farrell - Class Of 1967 VIEW PROFILE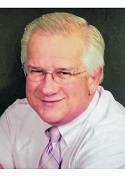 Patrick M. Farrell
May 31, 1948 - March 13, 2021
SOUTH BEND, IN -

Patrick M. Farrell, 72, of South Bend died on Saturday, March 13, following an unexpected heart attack. He passed peacefully, surrounded by his loving family. Pat was born May 31, 1948 in South Bend, IN, to the late Grace (Brugger) and Thomas Farrell.

Pat was a lifelong resident of South Bend. He grew up in a large, Irish family and lived in a busy neighborhood with friends on every street. He said that all he ever needed to do was grab his baseball mitt and bat and walk down the street. By the time he got to the corner, he had enough friends to field a team. He went to Madison and St. Patrick grade schools and then onto St. Joseph High School like his brothers before him. He graduated from Central High in 1966. He completed his B.S. at Indiana University. He loved the local community and ran for mayor in 2011 hoping to bring common sense to politics. He lost (and so did South Bend).

Pat believed that family was the most important thing in life. Holidays brought everyone together to eat and celebrate; Pat hosted large Christmas Eve parties. He loved his brothers and sisters and often spent evenings sharing a meal and trading stories with them. He was a devoted father and grandfather. He coached sports teams, spent thousands of hours catching pitches, and attended every game or concert of his children and grandchildren. After retirement, he volunteered, fished, and attended car shows in his 1964 Pontiac.

Pat is survived by his siblings, Mary Jo Keller, Maureen Farrell, Kathy (Wayne) Miller, Chris (Scott) Mattasits, and Tim Farrell; girlfriend, Sandra Wiggins; three children, Steve (Jodie) Farrell of South Bend, Kelly (Chris) Culver of South Bend, and Jeff Farrell of Lansing, MI, and their mom Carol; and four grandchildren, Ben, Sophie and Josh Culver, and Lauren Farrell. Brothers Fr. Tony and Bill (Jane) Farrell preceded him in death.

Visitation will be held at 10:00 am on Wednesday, March 17, 2021, at St. Joseph Parish, 226 N. Hill St., South Bend, followed by a Funeral Mass at 11:00 am. Father Kevin Russeau will officiate. A graveside service will follow at Highland Cemetery. Palmer Funeral Home-Welsheimer Chapel is assisting the family with arrangements. Memorial donations may be made in Pat's honor to Catholic Charities, 1817 Miami Street, South Bend, IN 46613. Online expressions of sympathy can be left at www.palmerfuneralhomes.com.

03/16/2021 JFC
Click here to see Patrick Michael's last Profile entry.