In Memory
Eugene Thomas Chism - Class Of 1967 VIEW PROFILE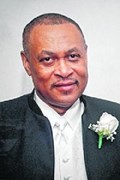 Central 1967 Eugene T Chism
Jan. 1, 1949 - Jan. 4, 2017
SOUTH BEND, IN - Eugene "Gene" Thomas Chism, 69, of Bettendorf, Iowa went from labor to rest on January 4, 2018. Services are scheduled for January 13, 2018 in Davenport, Iowa. A memorial will occur in South Bend, Indiana at a later date. Online condolences may be expressed at www.rungemortuary.com.
Gene was born January 1, 1949 in South Bend, Indiana to the late Rev. James T. Chism, and Lillian V. (Totty) Chism. He married Laura White in 1971, and had two daughters, Monique and Monica. In 1998 he married his present wife, Elaine Chism. He graduated in 1967 from Central High School in South Bend, Indiana as a basketball legend. He then went on to Wayland Baptist University in Plainview, Texas. After he graduated he joined the fraternal organization Kappa Alpha Psi.
Gene was involved in his community at all levels. He was appointed as Commissioner of Mental Health for the State of Iowa. While living in Cedar Rapids, Iowa he served as the President of the NAACP. In 1994 he was appointed by the Governor to the Affirmative Action Task Force for the State of Iowa. After moving to the Quad Cities, he became a City Commissioner in Bettendorf, Iowa. Gene rounded out his career working for the Davenport Community School District.
Gene is survived by his loving wife, Elaine Chism; daughters: Dr. Monique M. Chism; Monica (Cory) Brazier, and children: Divine Chism, Corriana Brazier, Moriah Brazier; step daughter, Courtney Dore, and children: Salena Dore, Elijah Dennis, Courben Session (Tim) and Alauna Session (Tim); brothers, James Chism (Mary), John "Chase" Chism, who is deceased (Shirley); sisters, Shirley Chew, and Charlotte Taylor (Lonnie); and a host of nieces, nephews, cousins, friends and furry friend Missy
Published in South Bend Tribune on Jan. 9, 2018
jmc 9 jan 2018
Click here to see Eugene Thomas' last Profile entry.