In Memory
Kathryn Helen Adams (Tampas) - Class Of 1946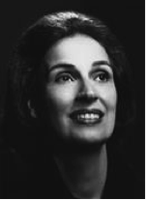 1947 Kathryn Helen (Adams) Tampas
• Colchester, VT
Kathryn Helen Tampas of Colchester, Vermont died peacefully in her sleep while surrounded by her family on March 11th, 2016. Kathy Tampas's star graced many stages but shone brightest as a devoted wife to Dr. John Peter Tampas and mother to Jessica Tampas, Peter Tampas, Andrea Yucknut, and Bookies Tampas-Williams. She was born on Friday, September 13th, 1929 in Indianapolis, Indiana to Harry C. Adams and Arete Zilson, both from Greece. Like her husband, also of Greek descent, Kathryn was raised as an only child, predeceased by her brother, Christopher.
Independent, strong-willed, and precocious, Kathryn was a talented performer, scholar, vocal trainer, and patron of the arts. As a child she attended James Madison Elementary school in South Bend and also studied piano, voice, dance, and elocution. She was active in her church, St. Andrew's Greek Orthodox, where she enjoyed traditional dances, dishes, and holidays, and where she mastered the Greek language.
Introduced to opera and theater by her father, Kathryn made the dramatic arts a consistent theme in her life and, after graduating from South Bend Central High School, she was awarded a scholarship to Indiana University where she studied voice and music. While at Indiana, Kathryn was forever on stage giving recitals. German Leider was her forte, but she was also an expert in Schumann and Brahms. She strengthened her repertoire by studying German, Italian, and French. Kathryn was elected to Sigma Alpha Iota International Music Fraternity for Women, graduated with honors in 1951 with a master's degree in vocal pedagogy, and was offered an audition with New York's Metropolitan Opera. After graduation, Kathryn taught music at The Conservatory of Music in Anderson, Indiana and performed on the radio singing classical and devotional music.
in 1961 Kathryn met the love of her life Dr. John Tampas who was doing a fellowship in cardiac radiology at Indiana University. Their courtship evolved and they were engaged at the Park Cafe in Burlington and married on December 29th, 1962 at Holy Trinity Church in Indianapolis. Kathy and John returned to Vermont after their honeymoon in San Juan Puerto Rico and St. Thomas. Their first house was a cabin on the shores of Lake Champlain in Malletts Bay and, soon after, they moved to 84 Ridgewood which they called home for over 30 years and where they raised four beautiful children. While John's career evolved, ultimately leading him to become the chair of the radiology department at what is now the University of Vermont Medical Center, Kathy quickly became active in the artistic community and the Greek Orthodox church.
Kathryn joined the Lyric Family in 1978, playing the leading role of Golde in Fiddler on the Roof and went on to play many roles with Lyric, including Frauline Schneider in Cabaret and Mrs. Anderssen in A Little Night Music. Thirty seven years later Kathryn was still a valued and respected vocal coach and advisor to Lyric Theatre. Kathryn was also a talented costume designer for several Lyric shows, most notably Kiss Me Kate which set a standard of excellence that Lyric follows to this day. Kathryn will also be remembered for opening up her home to the Lyric "gang" for many parties and practices that ended in raucous singing around the piano. Her sharp wit, her loving compliments and her gracious hospitality will long be remembered by the hundreds of Lyric members she touched. All together, Kathy was involved in over 50 Lyric Theater productions either on stage or behind the scenes. Last year, she sponsored the Music Room at Lyric Theater's new rehearsal space in South Burlington.
Kathy was also a dedicated patron of the Flynn Theater. A former committee member and long-time supporter of the Flynn Arts, she even sponsored one of the chairs during the renovation of the theater. Kathy and John's generosity extended also to the Vermont Symphony Orchestra where Kathy was on the board of directors and was a Bravo Supporter for several years and provided direct support for the Master Works.
As a devout Christian, Kathy had a deep faith that was guided by the teachings and ceremonies of the Greek Orthodox Church. For most of her adult life she practiced her faith at the Dormition of the Mother of God Greek Orthodox Church in Burlington. Kathy was very active in the church and, in addition to being the first female Parish Council President, she was also the choir director, organist, and Sunday school teacher. As strongly as she held her faith, she was equally supportive of other religions and expressions of faith and was outspoken about all human rights.
Kathy was also a saint and savior for many rescue animals, and her home was continuously filled with pets that needed and received love and attention. A family friend joked that in his next life he hoped to be reborn as a Tampas pet. Kathy's pet-family included the dogs Bruno, Patches, Misty, Bartholomew, Tina, and Tessa and her beloved cats Thomas, Max, Twyla, and Zoe.
Kathryn is survived by her husband, four children and eight grandchildren. Jessica Tampas of Chicago, Illinois, her husband Dr. Richard Lazar, and their son John Peter Lazar. Andrea (Dru) Yucknut of Deerfield, Illinois, her husband Steve Yucknut, and their children, Emily Campbell and her husband Sean, Elizabeth, Jack, and Henry. Peter Tampas of Colchester, Vermont. Christiana (Bookies) Tampas-Williams of Burlington, Vermont, her husband Brian Williams, and their children, Haven, Maude, and Eleanor.
Funeral Arrangements: Visiting hours at 10:00am and service at 11:00am on Monday, March 14th at the Dormition of the Mother of God Greek Orthodox Church, 600 South Willard St., Burlington, VT.
In lieu of flowers, the family requests donations be made to the Dormition of the Mother of God Greek Orthodox Church, P.O. Box 8122, Burlington, VT 05402.
Visit burlingtonfreepress.com/obituaries to Express condolences and sign the guest book.
Published in The Burlington Free Press on Mar. 12, 2016
- See more at: http://www.legacy.com/obituaries/burlingtonfreepress/obituary.aspx?n=kathryn-helen-tampas&pid=178020630&eid=sp_ommatch#sthash.dE2derGn.dpuf