In Memory
Audrey Carolyn Drymon (Holsinger) - Class Of 1938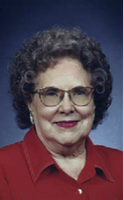 MISHAWAKA - Audrey Corolyn Holsinger passed away on Friday, March 3, 2016, at the Hospice House in South Bend. She was born in Buchanan, MI, on August 24, 1920, and lived in South Bend & Mishawaka most of her life. She was the daughter of A. Haskell and Helen Drymon. She was preceded in death by her husband of 22 years, Dick Holsinger. Audrey and Dick spent 13 winters in Arizona. Most recently, Audrey was a resident of The Waterford of Edison Lakes in Mishawaka.
Audrey was an optimist who loved life and family and lived by the Golden Rule. She enjoyed playing the organ, cruises, travel, reading, dancing and music. A lifelong Methodist, she was a member of Grace United Methodist Church in South Bend.
She attended Nuner School in River Park and graduated from South Bend Central High School on the honor roll. During WW II she was "Rosie the Riveter" working at Bendix making aircraft parts for the B-29; her career changed; she then worked at Goldblatt's, Oliver's/ White Farm, Associates and retired from National Bank (now Wells Fargo) in 1983.
Survivors include her sisters, Bette Duiker of Springfield, IL, and Corrine Christensen of Santa Ynez, CA, her brother, O. Rodney Drymon of E. Hartford, CT; her son, Lawrence C. Wilson of Lincoln, NE, 3 grandsons, Clyde Wilson, Talus Wilson and Xavier Wilson; and great-granddaughter, Mya; daughter, Linda L. Stockton of Candler, NC; and granddaughter, Michele Hall of Blue Springs, MO; great-grandchildren, Taylor, Noah and Halie of Blue Springs, MO; son, Jeffrey D. Chance of Mishawaka, IN; and grandson, Troy Chance of Plymouth, IN; and daughter, Cheryl L. Chance of Lincoln, NE; and grandchildren, Anaya Chance and Amelia Chance, also of Lincoln.She also has a large family of stepchildren and grandchildren through marriage.
An enormous debt of gratitude to Hospice House of South Bend as well as to her best friend at Waterford, Betty Hipps. Visitation for Audrey will be on Tuesday, March 8, 2016, from 11-1 pm in Bubb Funeral Chapel, 3910 N. Main St., Mishawaka, IN. A funeral service will begin at 1 pm in the funeral home. Cremation will follow.
Do not stand at my grave and weep; I am not there, I do not sleep.
I am a thousand winds that blow; I am the diamond glints on snow. I am the sunlight on ripened grain; I am the gentle autumn's rain. When you awaken in the mornings hush, I am the swift uplifting rush of quiet birds in circled flight. I am the soft star that shines at night. Do not stand at my grave and cry. I am not there, I did not die.
- See more at: http://www.legacy.com/obituaries/southbendtribune/obituary.aspx?n=audrey-c-holsinger&pid=177956489&fhid=8830&eid=sp_ommatch#sthash.qM1Altwi.dpuf