In Memory
Sally Mae Foster (Ballatore) - Class Of 1962 VIEW PROFILE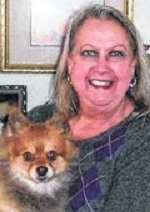 Sally Mae Ballatore
Nov. 9, 1943 - Oct. 14, 2013

SOUTH BEND - Sally Mae Ballatore, 69, of South Bend, IN, passed away at 4:42 p.m. Monday, October 14, 2013 at Memorial Hospital, South Bend, IN. Sally was born on November 9, 1943 in South Bend, Indiana to Charlie Mae (Nevitt) Winkle and Lee Foster both of whom preceded her in death.
She grew up in South Bend, going to Muessel Grade School and was a 1962 graduate of Central High School. She was a flight attendant with United Air Lines beginning her long career with United. She worked at the South Bend airport for 20 years and spent 10 years working out of O'Hare Airport. She ended her career with five years back in South Bend in reservations and retired after 35 years of service. She loved her job, but loved retirement even more.

In 1966 she married Frank Ballatore and they had one son, Brett, who now lives in Wilmington, N.C. She loved her home of 40 years on Orange Road. She loved decorating with antiques, and gardening in her yard. She had been a member of the Red Hat Society, loved going to the bakery for donuts, and most of all shopping! She had a booth at the antique mall, Pickers Paradise. She had a wonderful dog named Dallas for 12 years and her new little dog was named Francie. She loved dogs. She is also survived by her cousin, Norma Wolfe and her two children, Troy from Iowa City, IA and Wendy Wolfe from South Bend, IN.

She had a wonderful life with many great friends and was very happy with her life. She enjoyed each moment, and always wore a smile.

Visitation will be from 1 - 4 p.m. Thursday, October 17, 2013 at Kaniewski Funeral Home, 3545 N. Bendix Drive, South Bend, IN. Funeral services will follow at 4:00 p.m. Thursday at the Kaniewski Funeral Home, with Rev. Donald Bayne, Jr. officiating. Burial will follow in Highland Cemetery. Memorial contributions may be made to: Humane Society of St. Joseph County, 2506 Grape Road, Mishawaka, IN 46545-3004. To send condolences, please visit, www.kaniewski.com.

Published in South Bend Tribune on Oct. 16, 2013.
01/27/2022 DEC
Click here to see Sally Mae's last Profile entry.