In Memory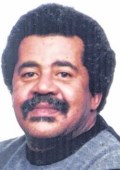 WILLARD ANDERSON
Oct. 3, 1938 - Aug. 11, 2013
SOUTH BEND - The funeral service for Willard Anderson is at 1:00 p.m. Friday at Mt. Carmel M.B. Church, with visitation one hour before the service at the church. Mr. Anderson passed away Sunday, August 11, at his residence. He was 74 years old. He was born 10/03/1938 in Michigan City, IN.
"Andy-Slow Motion" was a 1957 graduate of South Bend Central H.S. An avid sports fan, he enjoyed bowling, basketball, chess and cross country running, activities that he also participated in during high school. Andy was a retiree of U.S. Steel and AM General Securities.
He was preceded in death by his parents, Tansey (Celle) Ewing and Willard Anderson Sr.; a brother, Alvin "Rudy" Anderson; and grandchild, Reanna Malone.
Surviving are his children, Denise Wesson, Donna (Gregory) Gill, Jeffery Anderson, Nakia Terry, Torriano (Roenika) Anderson Sr., Verna and Brandon Anderson. 21 grandchildren and 8 great-grandchildren also survive him along with a host of other relatives and friends.
Burial is at Riverview Cemetery. Cobb Funeral is assisting the family with arrangements. You may sign guest register at www.cobbfuneralhomes.com.
Published by South Bend Tribune on Aug. 14, 2013.
12/31/2022 EJS
Click here to see Willard Andy's last Profile entry.