In Memory
Pamela Sue Champaigne - Class Of 1966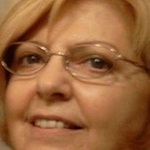 Pamela Sue Champaigne
June 3. 1948 – January 29, 2021
Pam lost her battle with stage four cancer on January 29, 2021 after surgery in Indianapolis. She is survived by twin brothers Jim (Carol) Elkhart and Jack (Yumiko) Mishawaka, and son Robert Szczechowski (Roxanne) and grandchildren Scott and Brielle, South Bend and was preceded in death by her son Christopher (CJ) Szczechowski 2016, and sister Nancy Champaigne Dunfee 1990.
Pam was the fourth child of Fred Raymond Champaigne and Mariam Louise (Smith) Champaigne in South Bend, Indiana.
She attended Lincoln elementary school, Saint Mary's Academy and South Bend Central high school, graduating in 1966.
Pam married Larry Szczechowski in 1967 and moved to Tera Haute, Indiana while Larry worked on his education degree. To keep Larry from watching too much television, Pam removed a tube from the TV knowing they did not have the funds to have it repaired. Mysteriously after final exams the TV started working again. Moving out of the city to Roosevelt Road afforded room to have pets. A dog and a mule named Maynard, neither of which was always restricted to the property. The mule would greet and sometimes follow the school bus down the road and once held them hostage until Pam came to their rescue.
Pam purchased a home back in the city on N Illinois street that allowed her to create an oasis with a large swimming pool for relaxation and entertainment. Who else would decorate a bowling ball with cut glass mosaic tiles for a yard ornament or, and electric wire on the fence top to keep the cats at home or argue with the city about the poor drainage in the alley behind her house and telling the workers how to do it correctly?

Pam had a varied technical career and was a member of IBEW 1392 and 1760 working for such companies as Koontz Wagner, Electromation, and Electronics Incorporated. She made and sold candles from home and later had a shop on Miami street. she later bought a business applying photographs onto mugs where she would sell at University Park mall during Christmas season, usually working through the night.
While Pam worked for her brother Jack at Electronics Incorporated from 1999 to 2009 as Education Coordinator, she selected the sites for workshops, contracted with the hotels, registered students and managed to keep the workshops on schedule.(She met hundreds of people and traveled to many foreign countries as the Ambassador to Electronics Inc.
Pam will be missed by her family and her neighbors, friends at the VFW and American Legion, and many friends on Facebook.
02/11/2021 JFC