In Memory
Hattie Sharon Brame (Tankersley) - Class Of 1966 VIEW PROFILE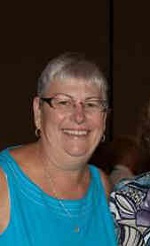 Hattie Sharon Tankersley
Mar. 26, 1948 - Aug. 12, 2015
H. Sharon "Nina" Tankersley, age 67, of Cassopolis, died peacefully Wednesday, August 12, 2015 in her residence.

She was born March 26, 1948 in South Bend, Indiana to T. Harvie and Hattie (Wilmoski) Brame. She married Robert Gordon Tankersley April 30, 1977 in South Bend, Indiana. He preceded her in death December 9, 2014. She was also preceded by her parents.

Sharon worked for over thirty years at Service Oil Company and loved the friends she made through her job. Nothing meant more to her than family and friends getting together at her house. Everyone loved her special recipes for Slime Lime Jello, Sweet and Sour Cabbage, German Potato Salad, and her Two Layer Lasagna. Her door was always open for entertaining – the more people the better. Sharon was crazy for Christmas. Her husband had to build her a custom tree stand because the commercial ones weren't big enough to hold the huge trees that she loved. The tree took two days to put up and Sharon loved that people would come from miles around just to sit and look in awe at what she had decorated.

Sharon will be greatly missed by family and friends. She is survived by her three daughters, Becky (Garry) Daniels of Cassopolis, Pamela (James) Schoff of Highlands Ranch, Colorado, Teri Tankersley of Chicago; her son, Robert B. (Heidi) Tankersley of Goshen; eight grandchildren, Bryan Schoff and Brett Schoff, both of Highlands Ranch, Colorado, Ryan (Gina) Daniels of Mishawaka, Mattie Daniels of Cassopolis, Mason Kintigh, Jordan Kintigh, Abby Tankersley and Lincoln Tankersley, all of Goshen; two great granddaughters, Taylor Barnard and Kelsey Barnard of Mishawaka; and one brother, Lloyd (Clara) Sheaks of Union.

Family and friends will gather for a Celebration of Sharon's Life at a date and time to be announced.
04/15/2022 DEC
Click here to see Hattie Sharon's last Profile entry.