In Memory
Erma Jane Hunt (Vanderwall) - Class Of 1944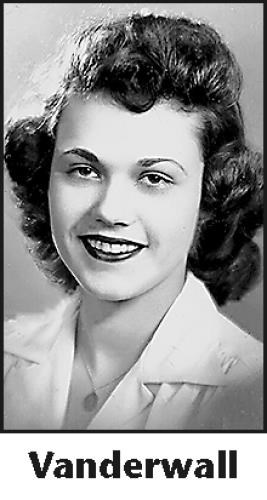 ERMA JANE (HUNT) VANDERWALL, 94, of Fort Wayne, Ind., passed away peacefully Sunday, Dec. 20, 2020. Born on July 17, 1926, she was a daughter of the late William "Pops" and Lois Hunt. Born in South Bend, Ind., Erma Hunt met the love of her life, Dick Vander -wall, at a USO dance in South Bend. They married in 1946.
Erma presided over a busy household that moved many times (at least 11!) for Dick's work, and as a result the whole family learned to make friends, be social, and pack efficiently. Residences included homes in Kansas, Indiana, Minnesota, Illinois, and finally back in Indiana.Along the way, Erma made many lifelong friends and bridge partners. Erma will be remembered for her drive, willpower, determination, and loving nature, having overcome many obstacles and challenges with grace, positive attitude, and by never giving up. She was a gifted singer and featured soloist who sang with many choirs associated with the churches she attended. "She blessed us for over 94 years, and by her example showed us how to live, love, and be our best selves."
She is survived by six children, Jan (Kim), Marlo (Richard) Quick, Rick (Libby), Bill (Kathy), Grady, and Jane (Kevin) Rench. Erma was the matriarch of a great family and is also survived by 15 grandchildren, Jenny and Jill Vanderwall, Josie (Colin) Johnson, Peter (Trish), Tom (Katie Toker), and Chris (Margaret Slaton) Vanderwall, Amy (David) Demmer, Sarah, and Joe Vanderwall, Elizabeth (Ryan) Schurtz, Whitney, Samantha, and Alec Vanderwall, Alyson (Brian) Riesterer, and Erin Rench, and 14 great-grandchildren, Cameron and Sydney Vanderwall, Hope Vanderwall, Oscar and Lilly Molldrem, Violet and Ben Johnson, Colin Simpson, Edith Vanderwall, Penelope and Etta Demmer, Hayden, Zoey, and Jackson Schurtz.
Besides her parents, she was preceded in death by her beloved husband of 68 years, Richard M. "Dick" Vanderwall; brothers, William "Bill" and Albert "Al". A private family service was held with a public celebration of her life planned for a later date when it is safe to gather and honor the life she lived.
In lieu of flowers, the family requests a donation to a local food bank in memory of Erma. Klaehn, Fahl & Melton Funeral Home, Fort Wayne. is handling arrangements. Condolences and memories of Erma may be left online at www.klaehnfahlmeltonfunerals.com
12/25/2020 JFC