In Memory
Martha Sue Schilling (Kravetz) - Class Of 1952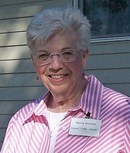 Martha "Marty" Schilling Kravetz

Kanarraville - Marty left a legacy of kindness behind as she left this life the afternoon of October 15, 2018. Her smile and generosity will be greatly missed and not forgotten.

She was born March 12, 1934 in South Bend, Indiana, to Nina and Charles Schilling. She had one older brother, George Schilling. Marty was a proud graduate of Central High School in South Bend, Indiana and also graduated from Ball State University in Muncie, Indiana. When Marty was young she loved playing volleyball and dancing.

Marty married the love of her life, Samuel F. Kravetz on June 22, 1957, in South Bend, Indiana, surrounded by friends and family. Marty met Sam in Colorado, where she was working in personnel transportation at Fort Carson, Colorado. Sam had rotated from Germany to Fort Carson, Colorado. They were married and devoted to each other for 61 years. They had 3 children together; Frederick, Edward and Susan, who were all raised in Las Vegas, Nevada. They have 6 grandchildren; Michael, Melissa, Kyle, Matthew, Katelyn and Kelli. They also have one great grandson, Raiden.

Marty took great pride in being a stay-at-home mom (domestic engineer) for Sam and their children. Upon her youngest starting high school, Marty worked at a bridal boutique. She eventually found a calling to serve as the chef for "The Home of the Good Shepard" for wayward teenage girls. She was chef, confidant and great friends to the girls, as well as the Sisters of the Dominican for many years.

Sam and Marty retired in March 1990, and relocated to Kanarraville, Utah. Once they retired, they enjoyed RVing for many years. Their noted trips included many across the US and Mexico. They have also enjoyed trips through Canada, from the West Coast through the East Coast. Amongst their numerous travels, Marty found time to be one of the starting members of the "Ye Olde Catholic Thrift Shoppe" in Cedar City, Utah. She also was the founder of the St. Martha's Baby Basket Project for 15 years. The project, to date, has donated well over 750 baskets and still counting.

A celebration of her life will be a Memorial Mass Saturday, November 10, 2018 at 10:00 am at Christ the King Catholic Church, 690 S Cove Drive, Cedar City, Utah 84720 (435-586-8298). In lieu of flowers, Marty wanted all donations to be made to the St. Martha's Baby Basket Project at Christ the King Catholic Church (690 S cove Drive, Cedar City, UT 84720). Please contact Cindy Davidson (435-586-7523), who will be happy to address any questions or concerns regarding your donations.

Sam and Marty would like to extend many "thank you's" to Brookdale Senior Living, Cedar City, Utah and Intermountain Homecare and Hospice. Online condolences can be sent at www.sumortuary.com.