In Memory
Betty Lou Saenz (Riemland) - Class Of 1946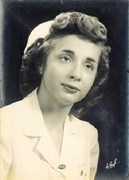 Central 1946 Betty (Saenz) Riemland
Nov. 9, 1928 - Jan. 14, 2018
ST. JOSEPH, MI - Betty Riemland of St. Joseph, Michigan passed away peacefully into eternal rest on Sunday, January 14, 2018 at the Hanson Hospice Center. Her last days were spent surrounded by family and close friends.
Betty was born on November 9, 1928 in South Bend, Indiana and was the daughter of Henry and Anna Saenz. She dreamed of becoming a nurse from an early age, and after graduating from Central High School in 1946, went on to pursue her education at St. Joseph School of Nursing, earning her nursing degree in 1949. In 1953 she married William Riemland and the couple moved to St. Joseph, Michigan to start their family.
Her nursing career would span more than 50 years and included employment at South Bend Memorial Hospital, University of Michigan Hospital, and Mercy Memorial/Lakeland Hospital in St. Joseph. Her passion for caring for others was appreciated by thousands of patients, many of whom would thank her years later for her comforting, calm demeanor while in her care. Betty loved nursing, and found great joy in the camaraderie she felt with fellow nurses, doctors and hospital staff, who were like family. Her hugs were infectious, and she couldn't say no when someone asked her to bake one of her famous cakes to bring to work.
In addition to nursing, Betty loved to travel. Her adventures led her to China, Brazil, and many European countries. While she loved these trips, she was also just as happy meeting friends at the St. Joe McDonald's and visiting the YMCA well into her later years. She was a devoted grandmother and great-grandmother and was a fixture in the first row of the bleachers at St. Joe Basketball games where she loved to point out her grandsons to all those sitting around her. Betty had friends from all walks of life and could strike up a conversation with just about anyone.
Even as Betty's health declined, she never complained, was gracious with family and caregivers, and always thanked those who helped with her care. She loved sitting in the library at the Whitcomb with her friends, waving to those who walked by.
Betty is survived by children, Nancy (David) Ott of St. Joseph and Jim (Sue) Riemland of St. Joseph; grandchildren, Andrea Ott of St. Joseph, Marshall (Meko) Ott of Westminster, Colorado, Matthew Riemland of Chicago, Illinois, and Michael Riemland of St. Joseph; great-grandchildren, Jason, Mark, Bradley, Nathan, Carrie, and Iami; great-great-granddaughter, Marley; sister, Judy (Satish) Bhalla of North Carolina; and many dear nephews, nieces, and friends. Betty was preceded in death by her husband, William Riemland in 1991; parents, Henry and Anna Saenz; and brothers, Richard and Virgil Saenz.
In accordance with Betty's wishes, a private family celebration of life will take place at a later date.
In lieu of flowers, memorial donations may be made to Trinity Lutheran Church, St. Joseph; Lakeland Health Foundation; or a charity of the donor's choice.
jmc 22 jan 2018