In Memory
Yolanda Elizabeth Illes - Class Of 1952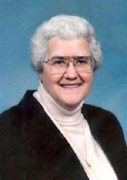 Central 1952 Yolanda E Illes
June 1, 1933 - Oct. 13, 2017
SOUTH BEND - Yolanda Elizabeth Illes, residing in South Bend, passed away at 8:40 pm Friday, Oct. 13, 2017, at Healthwin Hospital at the age of 84 years old.
She was born June 1, 1933, in South Bend, a daughter of the late Joseph & Theresa (Martinosi) Illes, and has remained a lifelong resident of this community, having graduated in 1952 from Central High School.
Yolanda was employed as a manager for Bonnie Doon's as a teenager, and later worked as a Topographer for Air Maps in Elkhart for 24 years. Following retirement, she worked Security for Michiana Regional Airport. She also worked for United Beverage and the Bendix Corp.
Yolanda is survived by her brother and sister-in-law, Reverend Joseph & Lillian Illes of South Bend; three nephews, Joseph Paul (Susan) Illes of Denver, CO, James M. (Kathy) Illes of South Bend, IN, and John S. (Sandra) Illes, of Lafayette, IN. She is also survived by great-nephews, Jeremiah Illes and Michael Illes, both of South Bend, Joshua Illes of Birmingham, AL, Cory Illes of Lafayette, IN, and Matthew Illes of Indianapolis, IN; along with several great-great-nieces and nephews.
Yolanda was a member of the Church of the Holy Trinity, South Bend. She was an extremely avid fan of Notre Dame Women's Basketball, and was very close to the former South Bend Blue Sox baseball team.
Services will be at 4:00 p.m. Sunday, Oct. 22, at The Church of the Holy Trinity, 915 North Olive Street, South Bend, where the family will receive friends one hour prior to the services. Graveside services and burial will be at 2:00 PM on Monday at Highland Cemetery.
In lieu of flowers, the family has requested contributions be sent to Holy Trinity Church.
Online condolences to the family may be sent to www.palmerfuneralhomes.com.
Arrangements for the Illes family are under the care of Palmer Funeral Home-Guisinger Chapel.
Published in South Bend Tribune on Oct. 19, 2017
jmx 19 oct 2017