In Memory
John M McDonald - Class Of 1947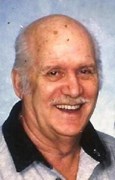 Central 1947 John M McDonald
SOUTH BEND - John M. "Mac" McDonald, 87, of South Bend, IN, passed away at 7:35 a.m. Thursday, August 31, 2017 in Hamilton Grove, New Carlisle, IN.
John was born on November 21, 1929 to the late Harold and Louise (LaVallee) McDonald in Jasonville, IN, and has lived most of his life in South Bend, coming from Big Rapids, MI. Along with his parents; he was also preceded in death by a daughter, Doretta L. Burkhart on May 2, 2010; a grandson, Richard D. Parker, Jr. in 2007; his sister, Ruth McDonald; and two brothers, Louis and Charles "Dale" McDonald.
Mac attended Central High School in South Bend. He was employed as an Operating Engineer for many years starting with Ritschard Brothers, Inc. and retiring from Reith-Riley Construction Company, both in South Bend.
On November 12, 1949, he married E. Dolores Thompson at Holy Cross Catholic Church in South Bend, IN. E. Dolores passed away on November 18, 2012.
Mac is survived by his daughters, Kathy J. (James) Nova of LaPorte, IN; Karen L. McDonald (Ernie Manges) of South Bend, IN; a son, John R. McDonald of New Carlisle, IN; five grandchildren, John "Willie" Hersom, Jr.; Daniel Hersom; Krystal and Tiffany Parker; and Jeremiah McDonald; 10 great-grandchildren, Reshai and Travis Hersom; Alexis, Emma, and Madelyn Hersom; Shelby Parker; Devin and Kirsten Szalay; Dominic DeKerr; Madison Brothers; a brother, Phillip (Jennie) McDonald of South Bend, IN; and two nephews, Scott and Thomas McDonald.
John was a lifetime member of Local 150 International Union of Operating Engineers; and was a volunteer for the American Red Cross. He enjoyed boating and spending time at Shavehead Lake in Michigan.
Visitation will be from 11:30 a.m. until 1:30 p.m. Tuesday, September 5, 2017 at Kaniewski Funeral Home, 3545 N. Bendix Drive, South Bend, IN.
A Funeral Service will follow at 1:30 p.m. Tuesday in the funeral home, with Rev. Bob Puhr officiating. Interment will follow in Riverview Cemetery.
Memorial contributions may be made to: Heartland Hospice Memorial Fund, 333 N. Summit Street, P.O. Box 10086, Toledo, OH 43699-0086 or online at www.HeartlandHospiceFund.org.
To send online condolences, please visit www.kaniewski.com.
Published in South Bend Tribune on Sept. 2, 2017
jmc 3 spp 2017