In Memory
Gertrude Lucille Major (Temple) - Class Of 1945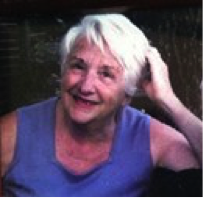 Central 1945 Gertrude M (Major) Temple
Oct. 19, 1927 - July 31, 2017
VANDALIA - Gertrude (Gertie) Major Temple passed away on July 31, 2017. She was 89.
Gertie was born on October 19, 1927, and was a longtime resident of South Bend. She graduated from Central High School in 1945, was a member of the swimming team, and often referred to herself as a Depression and World War II kid. Throughout her high school years she wrote and sang jingles to help raise money for war bonds, and would sing songs on request at the area USO to the delight of soldiers on their way to war - Gertie loved our country and truly appreciated the sacrifices and bravery of those who served.
She attended Indiana University South Bend until she met and married the love of her life, Robert (Bob) Temple, on August 27, 1949, also from South Bend. They were soulmates for over 65 years.
In the 70s, Gertie and Bob built their dream home on the lake where they used to swim when they were dating, and she dedicated countless hours over more than 35 years to preserve its pristine waters and wetlands for current and future generations to enjoy.
Gertie was always "family first" - a dedicated and loving daughter, sister, wife, mother, grandmother and aunt - as well as a special friend to many. She touched the lives of everyone she met with her stories, integrity, passion -- and her smile. She was a one of a kind treasure and will be forever in our hearts.
Gertie was predeceased by Bob and survived by their two daughters, Jan Temple (Tom Kuhn) and Gerry Ann Temple; grandchildren, Scott Temple Sortal (Sara), Brett Sortal (Cynthia), Peter Lovato (Natasha), Robert Temple Lovato (Katie) and Anna Kuhn; and her sister, Eileen Major Fodge; and loved by many nieces and nephews.
A Celebration of Gertie's life is planned for immediate family only, but please share your special memories at www.welsheimer.com for them to cherish. Also, if you would like to make a donation in her honor, please contribute to the Gertie Temple Water Quality Fund, 18100 Farmington Hills Drive, South Bend, IN 46637.
Published in South Bend Tribune on Aug. 6, 2017
jmc 6 aug 2017