In Memory
Paul Harvey - Class Of 1953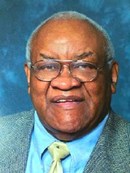 Central 1953 Paul Harvey
Jun. 08, 1935 - Jul. 18, 2017
GRANGER, IN. - Mr. Paul Harvey, 82 of South Bend, Indiana, formerly of Benton Harbor, Michigan, passed away on Tuesday, July 18th, 2017 at Creekside Village in Mishawaka, Indiana.
Paul was born to the late Armey Lee Harvey and Rebecca (Redding) on June 8th, 1935 in South Bend, Indiana. He was united in holy matrimony to Sharon Marie Butler on February 26th, 1956. Paul worked as a South Bend Police Officer for over 20 years before relocating with his wife in 1979 to Benton Harbor to own and operate two McDonald's franchises. They moved back to South Bend once his Parkinson's disease began its progression in 2012.
He was a player at South Bend Central High School and led the team to the 1953 Indiana High School State Basketball championship. He was subsequently inducted into the Indiana Basketball Hall of Fame 1995. He was a selfless man who helped many people throughout his life, until his health began to deteriorate in 2006. Many of his accomplishments include being a member of the Benton Harbor School Board, serving as the Benton Township Chief of Police as well as it's Supervisor, working for Darling International Inc., owner and operator of Michiana Sewer, along with numerous other board designations and appointments.
Paul had a lot of hobbies throughout the years; and entertaining for any and all was one of his favorites. However, his most favorite was running out on the football field alongside the players and coaches with the University of Notre Dame's Football team for almost 20 years. He was one of their biggest fans, and it allowed him to be a kid for several Saturdays in the fall during each of those years.
Survivors left to cherish his memory include one daughter Paula Harvey of Benton Harbor, Michigan; one son, Michael Harvey of Granger, Indiana; four grandchildren: Kellen and Jalen Harvey of Benton Harbor, Michigan, Nicole (Billy) Ryan of Orlando, Florida and Khris Harvey of Cocoa Beach, Florida; one great-grandchild Liam Ryan of Orlando; three sisters, Barbara Joseph of Conyers, Georgia; Joan Winters of South Bend, Indiana and Delores Moore of South Bend, Indiana. He was preceded in death by his parents, Armey and Rebecca Harvey; wife Sharon Harvey; brother Andrew Harvey and sister Anna Marie Harvey-Anderson.
A family gathering will take place from 10:00 a.m., to 1:00 p.m., on Tuesday, July 25, 2017 at Sunnyside Presbyterian Church, 115 S. Frances Street, South Bend, IN., 46617 with Service of Celebration beginning at 1:00 p.m.
Arrangements have been entrusted with Alford's Mortuary.
Visit our website at: AlfordsmortuaryInc.com to sign family guest book.
Published in South Bend Tribune on July 21, 2017
jmc 21 july 2017