In Memory
Betty Faye Williams (Carpenter) - Class Of 1943 VIEW PROFILE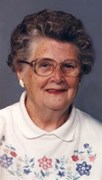 Central 1943 Betty Faye (Williams) Carpenter
October 19, 1924 - May 11, 2017
SOUTH BEND - Betty Faye Carpenter, 92, passed away Thursday, May 11, 2017 at Memorial Hospital in South Bend.
Betty was born on October 19, 1924 in South Bend in the home of her parents, Reginald and Pearl (Ferris) Williams. She was preceded in death by her parents; brother, Richard Williams and sister, Ila Sumption.
On October 19, 1947, in South Bend she married Donald E. Carpenter; he preceded her in death on May 29, 2001; they were together 53 years. Surviving are her daughter, Linda (Stephen) Berger of South Bend; sons, David (Diana) Carpenter of Plainfield, IN and Douglas Carpenter (Julie) of South Bend; grandchildren, Stephanie (Eric) Switzer, Stephen (Susan) Berger Jr., Stacie (Nathaniel) Overmyer, Michael (Faith) Carpenter, Danielle Carpenter and Blake Carpenter; and great-grandchildren, Ryan, Rachel and Reed Switzer, Cody, Wyatt and Madilyn Berger, Megan and Morgan Overmyer and Gabriel, Ruth and Eliza Carpenter.
Betty was a 1943 Graduate of Central High School where she enjoyed swimming and choir, and was a member of Penn South Auxiliary Club. She worked in her father's florist shop, Williams the Florist, for 12 years. Betty was an active member of Coalbush United Methodist Church for over 50 years, taking care of funeral dinners, and knitted hats and mittens for the Salvation Army. She was South Bend Central Class of '43 reunion chairperson and a member of the reunion committee for many years. She lived in the house she was born in until she married Don and they built their home together and lived there until her passing.
Her family and classmates referred to her as "Boo". She enjoyed the many vacations that she and her best friend, Mary Lou spent, earning them the nickname "Thelma and Louise". Betty's motto was to, "Nice People to Death".
Betty worked many long hours researching her family's history.
Funeral services will be held on Monday, May 15 at 11:00 a.m., with visitation two hours prior, in Coalbush United Methodist Church, Mishawaka. Burial will follow in Riverview Cemetery, South Bend. Hahn Funeral Home, Mishawaka has been entrusted with handling the final arrangements.
The family would like to send a heartfelt Thank you to everyone at Memorial Hospital in South Bend for the awesome care they provided to Betty.
In lieu of flowers, contributions may be made to Coalbush United Methodist Church, 15977 Jackson Rd., Mishawaka, IN 46544; or Pet Refuge Inc., 4626 Burnett Dr., South Bend, Indiana 46614.
To leave the family an online condolence, please visit www.hahnfuneralhomes.com.
Published in South Bend Tribune from May 13 to May 14, 2017
- See more at: http://www.legacy.com/obituaries/southbendtribune/obituary.aspx?n=betty-faye-carpenter&pid=185376384&fhid=8846&eid=sp_ommatch#sthash.a2KhHDAI.dpuf
jmc 14 may 2017
Click here to see Betty Faye's last Profile entry.