In Memory
Patricia Ann Miller (Brademas) - Class Of 1949 VIEW PROFILE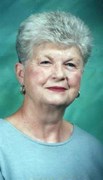 Central 1949 Patricia A (Miller) Brademas
Mar. 29, 1931 - Jul. 19, 2017
MISHAWAKA - Patricia Miller Brademas passed away at 12:49 p.m., July 19, 2017, at home. She was born on March 29, 1931 in South Bend to the late Dean E. and Ruth M. Miller. On August 23, 1953, she married Thomas Brooks Brademas Sr. and, together, they had four children. They divorced in 1982 and maintained an amicable relationship. He preceded her in death in 2007.
Pat is survived by her two sons: Stephen D. (Mishawaka) and Thomas B. Jr. (Shelly, of Niles, MI), her daughter Patricia A. (Mishawaka), two grandchildren (Kyle and Kayle), and one great-grandchild (Allen). Her son, John "Michael" Brademas, preceded her in death on October 24, 2005.
As a child, Pat attended Madison School. Subsequently, she graduated from Central High School., South Bend, in 1949. As an only child, Pat followed in her father's footsteps in choosing a career. Dean Miller had owned the Mar-Main Pharmacy in South Bend. Pat pursued her education at Purdue University and received a Bachelor of Science degree from the School of Pharmacy, graduating in 1953. She was a member of Alpha XI Delta Sorority. Following graduation, Pat married Tom. They moved to Ann Arbor from 1953-1955 so Tom could pursue his Master's Degree in City Planning at the University of Michigan. During this time, Pat was a hospital pharmacist. They lived in Detroit, Michigan, from 1955-1958.
After returning to South Bend in 1958, she did fill-in work at various local pharmacies. Upon the passing of her uncle, Hazen Miller, she purchased Hazen Miller Drugs in Mishawaka, which she owned and managed from 1961-1964.
Pat helped Tom build his business (City Planning Associates) and, later, helped develop the 100 Center in Mishawaka. She also continued doing fill-in work at various pharmacies while raising their four children.
In 1976, Pat began a new business venture, The Bath Shoppe, located in the 100 Center. She owned and managed the shop from 1976-1984. She always enjoyed her buying trips to Atlanta and New York City, where she would preview all the new products on the market.
While attending Central High School, Pat was a member of the Barnstormers and the Glee Club. For many years, she was active in planning class reunions for her graduating class. Pat was a member of the First United Methodist Church, Mishawaka, where she was active in the choir. She also served as a Board Member for the Children's Dispensary as well as the Very Special Arts, Indiana (VSA).
Pat enjoyed spending time with her family, entertaining friends, cooking and baking, and decorating for all of the holidays (especially Christmas). She also enjoyed traveling with her good friend, Dona Malan, and the annual get-togethers with the "Penthouse Gang." Pat was a long-time season ticket holder for the Broadway Theatre League and South Bend Symphony. Although she loved all of her children dearly, the pride of her life was her daughter, Patricia Ann. She also shared a very special bond with her grandson, Kyle.
The family would like to extend heartfelt thanks to Pat's long-time caregivers who treated her like family, with love and compassion. We would also like to thank the Center for Hospice Care.
Friends may spend time with Pat's family on Tuesday, July 25, 2017, 4:00 pm to 7:00 pm at Welsheimer Family Funeral Home North, 17033 Cleveland Rd., South Bend, Indiana. Services will be held at 11:00 am on Wednesday, July 26, 2017, at the First United Methodist Church, 201 E. 3rd Street, Mishawaka, Indiana, with Reverend Joyce Kuhn officiating. Burial will follow at Fairview Cemetery, Mishawaka.
In lieu of flowers, memorial contributions may be made to the Center for Hospice Care, 501 Comfort Place, Mishawaka, Indiana 46545.
Published in South Bend Tribune on July 21, 2017
jmc 21 july 2017
Click here to see Patricia Ann's last Profile entry.